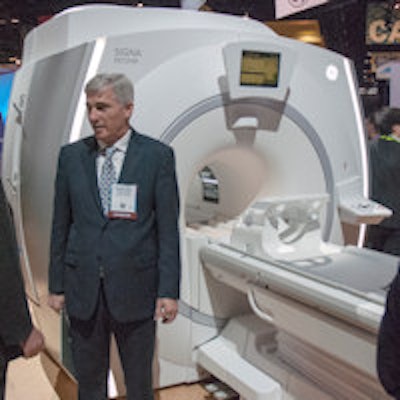 CHICAGO - The return of its storied Signa brand in MRI, a new family of Revolution CT scanners, and a new digital breast tomosynthesis (DBT) system with market clearance are among the new product introductions at RSNA 2014 for multimodality vendor GE Healthcare.
MRI
GE used the Signa brand from its entry in the MRI market in 1983 until it retired the marque several years ago. The Signa appellation has now returned in the form of Signa Pioneer, a new 3-tesla MRI scanner that features a productivity protocol called magnetic resonance image compilation (MAGiC).
Pioneer employs a 70-cm magnet bore with 97 radiofrequency (RF) channels. The system includes many of the features GE has popularized on other scanners, including its SilentScan noise reduction protocol, which has been enhanced to include musculoskeletal and spine scans, as well as neuro scans with diffusion-weighted imaging (DWI) protocols.
But it's MAGiC that really sets Pioneer apart. Developed in collaboration with Swedish software developer SyntheticMR, MAGiC is being touted as a productivity tool that allows users to create scans with six different contrasts in a single MRI scan: T1, T2, STIR, FLAIR, T2 FLAIR, and proton density-weighted images.
MAGiC enables users to produce multiple scans in as little as five minutes, and GE believes the technology will also reduce rescans as radiologists are able to get the views they want from original images.
Another new technology on Pioneer is total digital imaging (TDI), which includes a package of enhancements to the imaging chain and RF coils that are designed to improve image quality and increase signal-to-noise ratios by up to 25%.
Pioneer and MAGiC are pending U.S. Food and Drug Administration (FDA) 510(k) clearance.
Two other products in the relaunched Signa family are Signa Creator and Signa Explorer, new scanners designed to be installed in smaller spaces and use 34% less power for operation.
Signa Creator was developed with a focus on productivity, with a range of workflow-optimizing protocols such as "eyes to thighs" coverage, automated motion correction for brain exams, cartilage mapping for musculoskeletal studies, and vascular scans with noncontrast and automated time-resolved protocols.
Meanwhile, Explorer is a high-end scanner with a 60-cm bore that includes all of the same features found on Creator, but also GE's SilentScan for neuro technology, as well as MAVRIC SL, an algorithm for reducing metal artifacts that improves visualization of soft tissue and bone near implants.
Both Creator and Explorer are pending FDA clearance.
CT
GE made a big splash in CT at RSNA 2013 with the launch of its Revolution CT scanner, and at RSNA 2014 the firm is reporting that shipments have begun, with close to 100 installations expected by the end of the year.
GE is announcing the addition of new scanners to the Revolution family, including Revolution GSI, Revolution HD, and Revolution Evo. Revolution GSI is based on the company's gemstone spectral imaging (GSI) technology and is designed for sites that want to focus on spectral imaging.
Revolution HD is focused on low-dose, high-definition image quality, according to the company, while Revolution Evo is a scalable system in 32-, 64-, and 128-channel configurations that is optimized for the needs of emergency departments. Evo also includes GE's latest adaptive statistical iterative reconstruction (ASIR-V) dose reduction protocol, as well as protocols designed for easy scan setup.
All three new Revolution scanners began shipping in September.
Ultrasound
In ultrasound, GE is highlighting the addition of a shear-wave elastography capability to its Logiq E9 platform. The software enhancement yields a quantifiable tissue stiffness measure; results are displayed on a 2D real-time, color-coded ultrasound image. GE believes the tool will be useful for assessing disease in the liver, breast, and other organs.
The vendor is also featuring a new version of its Vscan pocket ultrasound system with a dual-headed probe and Venue 50, a tablet-style ultrasound system.
New upgrades to the vendor's Logiq E9 and S7 add image quality enhancements, as well as new transducers and automated tools.
On the E9, GE's C1-6VN-D and C2-9VN-D broad-spectrum convex transducers feature an embedded VNav sensor to improve abdominal and ob/gyn exams, according to the firm.
B-Flo Imaging is a non-Doppler tool that displays small vessels while limiting dependence on user technique and scanning angle, GE said. The company has also added new productivity features for E9, include productivity packages and automated measurement tools as well as Compare Assistant, which helps users find prior exams for side-by-side comparisons.
On the hardware side, GE has incorporated a new processor, the Windows 7 operating platform, and a 19-inch monitor that comes with an articulating arm. The company has also updated the system's touch-panel user interface and added an optional four pin-less active ports for transducers and optional wireless networking support.
S7 upgrades include eight new E-series transducers, support for wireless networking, and Power Assistant, a battery-saving feature that reduces power-up and power-down tasks by up to 90%, according to the firm. GE has also included a new cardiac package, automated Ejection Fraction (AutoEF), and an integrated Smart Stress Echo package. In addition, GE is showing its Voluson E10 ultrasound scanner, which was introduced in September at the World Congress on Ultrasound in Obstetrics and Gynecology in Barcelona, Spain. E10 features the firm's HDlive Silhouette and HDlive Flow image processing applications.
Finally, GE is highlighting the breadth of its women's imaging portfolio. The vendor is directing attention to its women's imaging SenoClaire digital breast tomosynthesis offering, for which it received FDA clearance earlier this year. The system began shipping in September, and GE expects to have sold 120 systems by the end of the year.
The company is also talking up its Invenia automated breast ultrasound (ABUS) system, which it introduced earlier in the year.
Advanced visualization
GE is presenting three new advanced visualization applications for its AW Advanced Visualization VS7 server platform. One application, Transcatheter Aortic Valve Implantation (TAVI) Analysis offers visualization, segmentation, and quantification of cardiovascular anatomy to assist in treatment planning, according to the vendor.
CortexID Suite adds analysis and quantification capability for FDG-PET beta-amyloid brain scans, GE said. It also provides image comparison with a normal image database. In addition, referring physicians and patients can receive a customizable exam summary report, according to the firm.
The final new application -- Hepatic VCAR -- aids in segmentation, assessment, and tracking of liver morphology and lesions, GE said.
GE plans to release the new tools in the first half of 2015.
Healthcare IT
In healthcare IT, GE is featuring its enterprise imaging capabilities, including its new Centricity Solutions for Enterprise Imaging package. Aiming to unify imaging data across the enterprise, Centricity Solutions for Enterprise Imaging allows different specialties to have common image viewing, analytics, and vendor-neutral archiving capability, according to the vendor. Its modular approach supports many care-specific workflows.
GE's Cross-Enterprise Display is a new Web-based application that gives clinicians enterprise-wide access to reporting tools such as speech recognition. Another new addition, Cross-Enterprise Display, provides radiologists with access to consolidated patient imaging histories across hospitals, GE said.
Shown as a work-in-progress, version 6.0 of GE's Centricity Clinical Archive vendor-neutral archive (VNA) adds support for image capture along with additional image life-cycle management tools, according to the vendor. GE plans to begin shipping version 6.0 in the first half of next year.
In cardiology image management developments, GE is showcasing the latest version of its Centricity Cardio Enterprise package, which enables clinicians to access a unified view of cardiology images and related radiology studies.
GE is also showcasing digital pathology technology developed via its Omnyx joint venture with the University of Pittsburgh Medical Center. The company has filed a premarket approval (PMA) application for a digital pathology system that includes the VL120 pathology slide scanner and Omnyx IDP workstation software.
Molecular imaging
In the molecular imaging section of its booth, GE is promoting the launch of its Signa PET/MR scanner, which has received 510(k) clearance from the FDA. GE is touting the scanner's time-of-flight (TOF) capability, as well as its MRI-compatible silicon photomultiplier detector technology.
This supports what GE calls Turbo TOF reconstruction, which offers higher signal-to-noise ratios while improving PET attenuation compared to non-TOF reconstruction systems. Signa PET/MR also has sensitivity of 21 cps/kBq, which enables either additional dose reduction or faster PET scans with the same dose. Signa PET/MR is fully upgradable from a Discovery MR750w 3-tesla scanner.
GE is also highlighting Discovery IQ, the PET/CT scanner for which it received FDA clearance earlier this year. The system was introduced at the Society of Nuclear Medicine and Molecular Imaging (SNMMI) annual meeting in June.
Discovery IQ includes GE's Q.Clear mode, which is designed to provide more accurate quantitative measurements for detecting small lesions, with no trade-off between image quality and quantitative measurements of standardized uptake values (SUVs), the company said.
GE is promoting Discovery IQ as the most scalable PET/CT it's ever offered, with configurations starting at two rings of PET detectors and ranging up to five detector rings with 26 cm of coverage. The high-end system offers the highest count rate in the GE PET portfolio, with sensitivity of up to 22 cps/kBq.
Discovery IQ can put the system's added power to use in a variety of ways, choosing scans with one-quarter of the radiation dose or one-third of the scan time. Users can even choose to reduce both time and dose parameters with scans that are half the dose in half the scanning time.
The system feature the company's LightBurst PET detectors, a new type of bismuth germanium oxide (BGO) detector that takes fast dual-channel electronics from lutetium oxyorthosilicate (LSO) detectors and adapts them for BGO crystals, enabling the system to handle radiotracers with faster decay times.
GE estimates that it has shipped about a dozen Discovery IQ scanners since receiving FDA clearance in September.
On the nuclear medicine side, Discovery NM/CT 670 Pro is a new version of the company's Discovery NM/CT 670 SPECT/CT system. The system uses GE's newest Optima CT540 16-slice CT scanner and NXT gamma camera detectors.
The Pro version also includes GE dose reduction technologies for both the CT and SPECT modules. For CT, the system uses the company's ASIR protocol, while the SPECT side employs GE's Evolution technology. Other technologies found on Pro include Q.Metrix quantification technology, which can be used for applications such as measuring tumor response to therapeutic radiopharmaceuticals.
The first Discovery NM/CT 670 Pro system shipped to a customer in Germany in September.
X-ray
In x-ray, GE is talking up two new digital radiography (DR) systems, Discovery XR 656 Plus and Optima XR 646. Both systems share the same wall stand and float-top table, which has been upgraded to support patients weighing up to 705 lb. GE also adapted the table so that it can lower to 50 cm, which makes it easier to load wheelchair-bound and pediatric patients.
The main difference between the systems is the overhead tube suspension system: Discovery XR 656 Plus has five axes of robotic motion for additional positioning flexibility, while Optima XR 646 has one vertical axis of motion. Both systems have 510(k) clearance, but an image pasting application for the 646 designed for long-bone and scoliosis studies is pending FDA clearance.