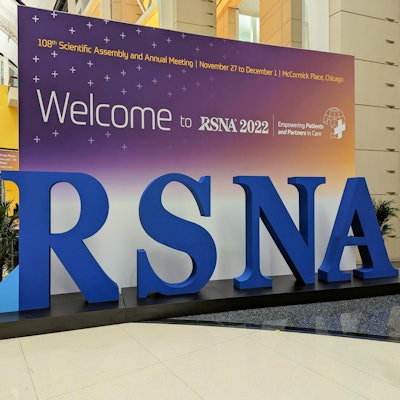 CHICAGO - A deep-learning algorithm that flags sarcopenia-related terms in CT imaging reports identifies incidence of the condition more accurately than electronic health record data does, according to research presented November 29 at the RSNA meeting.
The findings could help clinicians better treat patients with sarcopenia, or low muscle mass -- a condition that affects one in 10 "community dwelling" individuals and one in four hospitalized patients, session presenter Dr. Juan Manuel Zambrano Chaves, PhD, of Stanford University told attendees.
"Automated sarcopenia diagnosis may enable faster treatment, better risk assessment, and improved quality of care," he said.
Sarcopenia is a risk factor for cardiovascular disease, cancer, dementia, and death, although it is relatively treatable with lifestyle interventions, Zambrano Chaves noted. Documenting it is important because it not only allows a patient's sarcopenia to be treated but also for clinicians to assess the person's risk of further disease.
This is where CT imaging comes in. More than 20 million abdominal CTs are performed in the U.S. each year -- a fact that suggests that the modality could offer a way to diagnose sarcopenia opportunistically, according to Zambrano Chaves. And although manual analysis of CT images to identify sarcopenia takes time, an artificial intelligence algorithm may be able to identify the condition in seconds.
To assess CT's ability to identify sarcopenia, the investigators conducted a study that included data from 17,646 adults who underwent a contrast-enhanced abdominal CT between 2013 and 2018. The prevalence of the condition was determined by International Classification of Diseases 10th edition (ICD-10) diagnosis codes in patients' electronic health records or radiology reports as well as CT reports. The team used a validated deep learning algorithm to perform an automated body composition analysis from the CT images, labeling skeletal muscle and visceral fat at the third lumbar vertebra level; these labels were compared to values taken from a cohort of healthy kidney donors who had also undergone abdominal CT.
The ICD-10 code data identified sarcopenia in 0.05% of patients (9) and radiology report data identified sarcopenia in 0.005% of patients (1). But CT showed a much higher incidence: 28.5%.
CT plus deep learning gives a more accurate picture of the prevalence of sarcopenia, according to Zambrano Chaves and colleagues -- which will likely improve patient outcomes.
"Automated body composition analysis enables diagnosis of sarcopenia on abdominopelvic CT images at a rate three orders of magnitude larger than otherwise documented in the medical record," they concluded.