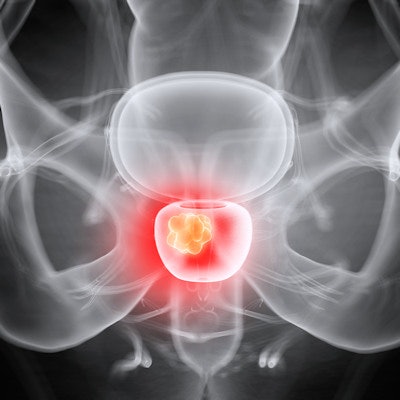 A new microstructure imaging technique, hybrid multidimensional MRI (HM-MRI), could enable better targeting of areas in the prostate that need to be biopsied, according to a presentation at the American Roentgen Ray Society annual meeting in Honolulu.
"This study validates [that an] HM-MRI based tool can identify clinically significant prostate cancer -- equal to or more than Gleason 3 + 4 -- more reliably than random biopsy and/or areas detected by a radiologist in patients undergoing MR-ultrasound fusion biopsy," presenter Aritrick Chatterjee, PhD, of the University of Chicago told session attendees.
HM-MRI depicts volumes of tissue components such as the stroma, epithelium, and lumen by "fitting the MRI data into a three-compartment signal model," Chatterjee explained.
He and colleagues conducted a study that included 85 patients with a mean prostate-specific antigen (PSA) score of 8.1 ng/ml; median time between MR imaging and biopsy was seven days. Patients underwent both a standard prostate MRI and an HM-MRI exam; all had a transrectal ultrasound (TRUS)-guided biopsy. The median time between MR imaging and biopsy was seven days.
The group found that HM-MRI had higher sensitivity per tumor of the prostate but not per patient. It had a lower negative predictive value on a per-patient basis.
Comparison of mpMRI and HM-MRI for identifying clinically significant prostate cancer
Measure
mpMRI
HM-MRI
Per-patient
Sensitivity
100%
90%
Specificity
15%
40%
Positive predictive value
41%
47%
Negative predictive value
100%
88%
Accuracy
46%
58%
Area under ROC curve
0.58
0.65
Per-tumor
Sensitivity
70%
78%
Positive predictive value
22%
34%
By sextant (i.e., from ultrasound-guided biopsies of six different areas of the prostate)
Sensitivity
50%
68%
Specificity
82%
86%
Positive predictive value
19%
29%
Negative predictive value
95%
97%
Accuracy
79%
85%
Area under the ROC curve
0.66
0.77
The findings highlight the fact that radiologists need to consider the HM-MRI data with care.
"[We] have to look at these results very carefully and consider all three," he said.
HM-MRI shows promise for improving MR-ultrasound fusion biopsy results by offering more accurate clinical information compared to PI-RADS-based radiologist evaluation, Chatterjee concluded.
"The advantage of this tool is its ability to provide automated, quantitative, reproducible results," he said.