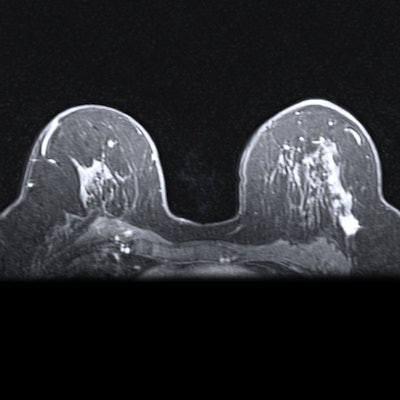 Using breast MRI for breast cancer screening leads to additional follow-up tests and healthcare costs compared with mammography, according to a study published April 13 in JAMA Network Open.
The results highlight the need for physicians to actively engage patients in decision-making around screening breast MRI, lead author Dr. Ishani Ganguli of Harvard Medical School in Boston told AuntMinnie.com.
"[Our] physician colleagues [need] to be aware of -- and discuss with patients -- the potential downstream consequences of screening breast MRI, specifically additional lab tests, imaging tests, specialist visits, procedures, hospitalizations, and new diagnoses that are often spurred by false positive or incidental results and may not improve health," she said.
Breast MRI is more sensitive than mammography for identifying breast cancer and is recommended for screening women at higher risk of the disease, the group explained. But it is increasingly being used among women at low or average risk for breast cancer as well, which raises concern about potential drawbacks like unnecessary testing and costs.
"Breast MRI is less specific than mammography for breast pathology, resulting in more false-positive results and unnecessary biopsies," the investigators noted. "In addition, unlike mammography, breast MRI can reveal extramammary findings that may similarly prompt follow-up imaging and other services of unclear benefit."
The group sought to investigate prevalence and cost of additional follow-up tests and procedures (which it called "cascade services") six months following either an index breast MRI scan or mammography exam for breast cancer screening. The study focused on data from the MarketScan research database from 9,208 women who underwent breast MRI and 9,208 women who underwent mammography between January 2017 and June 2018; the women were commercially insured and did not have a prior breast cancer diagnosis.
Ganguli and colleagues found that breast MRI led to more cascade services compared with mammography, both breast-related and non-breast-related, as indicated in the table below.
Mammography versus breast MRI cascade service events per 100 women within 6 months of screening test
Follow-up event
Mammography
Breast MRI
Difference
Breast-related
All
95
134
39
Imaging tests
13
18
5
Procedures
5
22
17
Physician visits
76
89
13
New diagnoses
0.9
3.9
3
Non-breast-related
All
285
304
19
Imaging tests
33
33
--
Procedures
9
10
1
Physician visits
125
141
16
New diagnoses
4
4
--
"We found that breast MRI was associated with substantially higher rates of cascades from mammary findings than mammograms, which would be expected given MRI's higher sensitivity and lower specificity for breast cancer detection relative to mammography and well-documented higher rates of false-positive results and biopsies, especially among women without known breast cancer," the group wrote.
In terms of costs, breast MRI prompted higher total healthcare spending overall, for both breast-related and non-breast-related follow-up, and higher out-of-pocket fees.
Cost comparison per woman by breast cancer screening modality, 6 months after initial screening exam
Cost
Mammography
Breast MRI
Difference
Total
$4,411
$5,815
$1,404
Breast-related follow-up
$305
$869
$564
Non-breast-related follow-up
$661
$704
$42
Out-of-pocket fees
$542
$573
$31
The study results point to the importance of identifying exactly who benefits most from screening breast MRI, according to the authors.
"The additional testing and related insurer and out-of-pocket spending has important implications for understanding the benefits and harms of MRI screening at the population level and for assisting women in shared decision making about MRI screening," they concluded. "Our findings underscore the importance of avoiding breast MRI in low or average-risk women for whom potential harms from screening outweigh potential benefits."