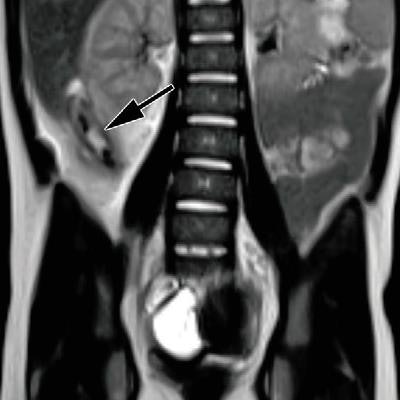 Look no further than MRI to confirm suspected cases of acute appendicitis in children or to provide an alternative diagnosis, according to a study published online February 12 in Radiology.
Among more than 400 pediatric patients seen at the researchers' institution, MRI achieved near-perfect accuracy when used as the initial imaging modality, with only a handful of children requiring sedation for nonenhanced scans.
"Real-world testing of unenhanced MRI at an academic center can yield results that are as good [as] or better than those of ultrasound for the diagnosis of acute appendicitis, and that are also favorable for identification of the appendix and for the evaluation of other causes of abdominal pain," concluded lead author Dr. Raza Mushtaq and colleagues from the University of Arizona College of Medicine.
Evidence-based guidelines from the American College of Radiology (ACR) recommend ultrasound for diagnosing acute appendicitis in pediatric patients. Ultrasound does, indeed, have advantages: There is no ionizing radiation exposure and no need for sedation.
However, ultrasound results depend on the sonographer's skill, it has a limited ability to determine an alternative diagnosis, and sensitivity can range from 30% to 98.5%. If ultrasound is equivocal, CT could be used, but the modality's radiation burden can be a concern for pediatric patients.
Like ultrasound, MRI avoids exposing patients to radiation. It also offers "rapid, free-breathing imaging" with no need for intravenous or oral contrast for a "more efficient, comprehensive evaluation of symptom etiology, which may be especially challenging to elicit clinically in a pediatric population," Mushtaq and colleagues wrote.
According to the authors, the use of MRI as the primary imaging modality for suspected appendicitis had not been previously studied. Thus, for their study, they looked at 235 female and 167 male pediatric patients (median age, 13 years) who came to the emergency department with suspected acute appendicitis. The subjects underwent unenhanced abdominal MRI exams on a 1.5-tesla (Magnetom Aera, Siemens Healthineers) or 1.5-tesla scanner (Magnetom Skyra, Siemens).
As the primary diagnostic imaging modality, MRI visualized the appendix in 349 (87%) of the 402 patients. A diagnosis for the remaining 53 patients (13%) was provided based on secondary signs of appendicitis, such as the detection of fluid or an elevated T2-weighted signal in the expected region of the appendix. Overall, MRI achieved sensitivity of 98%, specificity of 99%, and accuracy of 99%. Among the 304 patients with negative findings for appendicitis, MRI provided an alternate diagnosis for 113 (37%).
The pediatric patients in the study also appeared to tolerate the scans well, with only 13 (3%) requiring sedation. The median scan time of 21 minutes likely contributed to the low frequency of sedation, according to the researchers.
"The diagnostic performance and efficiency of current MRI may yield overall value when it is used as a first-line modality in [the pediatric emergency department] for acute abdominal pain," they wrote.