Fibroblast activation protein inhibitor (FAPI)-PET/CT appears superior to standard FDG-PET/CT for detecting gastrointestinal cancer, with higher radiotracer uptake seen in most tumors, according to a study published October 26 in the Journal of Nuclear Medicine.
In a clinical trial, researchers in Xiamen, China, compared the two approaches for detecting primary and metastatic tumors in patients with confirmed gastric, liver, or pancreatic cancer.
"The use of F-18 FAPI-74 PET/CT is expected to improve the diagnosis of gastrointestinal cancer and contribute to individualized patient care," wrote senior author Haojun Chen, MD, PhD, and colleagues.
Fibroblast activation protein (FAP) is overexpressed by fibroblast cells in more than 90% of epithelial tumors. Previous studies have shown that experimental FAP inhibitors (ligands that attach to the FAP protein) are highly accurate as PET imaging agents when combined with gallium-68 (Ga-68) radioisotopes.
However, FAPI radiotracers labeled with F-18 isotopes may offer advantages in workflows and patient care over Ga-68-labeled tracers, as they have a longer half-life (110 vs. 68 minutes), the researchers added.
To establish evidence for the use of F-18 FAPI-PET/CT in patients with gastrointestinal cancer, the researchers enrolled 112 patients from June 2022 to December 2022 at their hospital in Xiamen. Patients underwent concurrent F-18 FDG and F-18 FAPI-74 PET/CT, with findings confirmed by biopsies. The tracers were compared based on uptake and tumor-to-background ratios.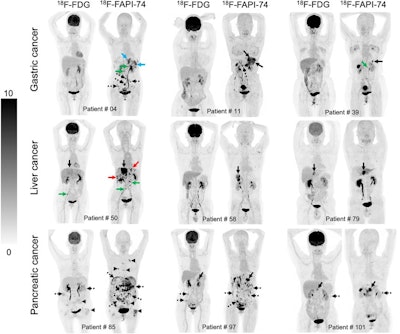 Out of the 112 patients, 49 had gastric cancer, 39 had liver cancer, and 24 had pancreatic cancer. Among them, 69 patients underwent PET/CT for initial staging and 43 for the detection of disease recurrence.
Regarding lesion-based diagnostic accuracy, F-18 FAPI-74 PET/CT showed higher sensitivity than F-18 FDG-PET/CT in detecting primary tumors, local recurrence, and bone and visceral metastases.
Sensitivity of FDG-PET/CT vs. FAPI-74 PET/CT in detecting gastrointestinal cancer

Cancer type
FDG-PET/CT
FAPI-74 PET/CT
Gastric cancer
60%
88%
Liver cancer
82%
100%
Pancreatic cancer
86%
100%
Moreover, compared with F-18 FDG, F-18 FAPI-74 PET/CT upstaged 17 patients and changed the clinical management of four patients in whom recurrence or metastases were detected, according to the findings.
"Our results suggest that the diagnostic accuracy of F-18 FAPI-74 in gastric, pancreatic, and liver cancers was higher than that of F-18 FDG," the group wrote.
The authors noted that the use of FAPI-74 does not require patients to fast or involve blood glucose level monitoring, as in FDG-PET/CT, which may result in shorter preparation times and improved patient flow.
"In addition to higher lesion detectability, F-18 FAPI-74 PET/CT offers greater potential value during the examination process and during image acquisition, ultimately benefiting patients," the group concluded.
A link to the full study can be found here.