A recently built small PET scanner may improve the detection of prostate cancer and could ultimately reduce invasive patient biopsies to confirm disease, according to a group in Bologna, Italy.
Researchers led by Paolo Castellucci, MD, of IRCCS Azienda Ospedaliero-Universitaria di Bologna, explored the clinical potential of a scanner called ProsPET developed by a group in Spain in 2020. The scanner could be of great value to assess high-risk patients in the prebiopsy setting, they suggested.
"A dedicated PET instrument could reduce the number of random biopsies performed, the time spent, patient discomfort, and the incidence of complications," the group wrote, in an article published September 28 in PET Clinics.
The diagnosis of prostate cancer is usually based on transrectal or transperineal biopsies – from 12 to 24 samples – in most cases after the performance of a dedicated MRI and/or transrectal ultrasound, the researchers explained.
The ProsPET prototype was designed to improve spatial resolution and increase sensitivity, which could allow for more precise detection and location of small prostate cancer lesions and hypothetically less biopsies, the group noted.
To elucidate the scanner's clinical potential, the researchers reviewed the literature and reported on its characteristics.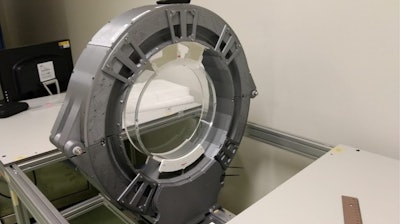 The ProsPET system has an inner ring of just 41 centimeters in diameter, compared with diameters of approximately 70 to 90 cm for typical prostate cancer PET/CT scanners. The ring includes 24 detector blocks, each containing a single monolithic LYSO scintillation crystal sensitive to radiotracer emissions.
Thus, while the axial field of view of the scanner is small (about 4.6 cm, compared with between 15 and 25 cm in typical clinical PET/CT scanners), the scanner can achieve significantly higher resolution, the researchers noted. Moreover, the scanner features two movable parts that open and close, which could ease patient positioning.
In simulations, physicists at the University of Valencia where the prototype was built have been able to achieve resolutions under 2 mm in reconstructed images, compared with resolutions in the range of 4 mm to 5 mm with typical clinical PET scanners, according to the authors.
Ultimately, the most clinically relevant application for the technology would be in combination with MRI to detect clinically significant intraprostatic disease in high-risk patients who have not undergone biopsy, the researchers suggested.
"This approach will enhance the diagnostic accuracy by making diagnosis possible only by performing a few targeted biopsies on the suspected lesions on images generated by this instrument," the group concluded.
For the full article, click here.