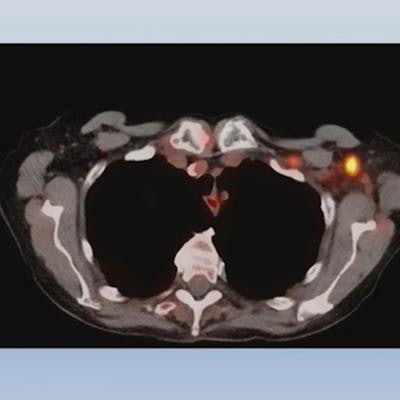 PET/CT imaging shows that COVID-19 mRNA vaccines appear to cause higher rates of reactive lymph nodes in cancer patients compared with whole-virus vaccines, according to a study presented at the American Roentgen Ray Society meeting in Honolulu.
Dr. Mehemet Adin of Yale University presented an international study led by researchers in the U.S. and Turkey that compared rates seen on F-18 FDG-PET/CT in cancer patients who received full doses of two mRNA vaccines (Pfizer-BioNTech and Moderna) versus two whole-virus vaccines (CoronaVac and Janssen).
"Vaccine-related reactive axillary lymph node enlargement may prompt unwarranted interventions or cause a delay in cancer care if malignant lymph nodes are mistakenly attributed to [reactive axillary lymph nodes]," Adin said.
Moreover, the numbers of cases of reactive axillary lymph nodes secondary to various COVID-19 vaccines remains poorly understood, with reported incidences varying from 10% to 100%, Adin noted.
In this multinational PET/CT study, the researchers aimed to further elucidate these associations in a study comprising multiple vaccine types in 341 oncological patients. Patients underwent PET/CT scans after full vaccinations between December 2020 and August 2021 at two tertiary medical centers: Yale University and Istanbul School of Medicine in Turkey.
The researchers characterized lymph nodes with FDG radiotracer uptake below or at the blood pool level as nonreactive, while those with FDG uptake above the blood pool level were classified as reactive. Among the patients, 183 received the Pfizer-BioNTech vaccine, 83 received the Moderna vaccine, 11 received the Janssen vaccine, and 64 received CoronaVac.
According to the analysis, patients receiving the Pfizer-BioNTech and Moderna vaccines had similar incidences of reactive axillary lymph nodes in the first 20 days after the second dose (44% for the first 10 days for both groups, and 26% vs. 20% for days 10 to 20). However, Moderna recipients had higher incidences after 20 days than patients who received the Pfizer-BioNTech vaccine (4% vs. 15%).
On the other hand, no incidences of reactive axillary lymph nodes were found in patients who received either a single injection of the Janssen vaccine (full dose) or two doses of CoronaVac. Except for age, other clinical parameters were not predictive, Adin said.
"There is lower incidence of vaccine-related [reactive axillary lymph nodes] in attenuated whole-virus vaccines, which is in line with their lower immunogenicity compared to mRNA vaccines," he said.
Ultimately, the findings are in line with recent reports of low immunogenicity of attenuated whole-virus vaccines and suggest reactive axillary lymph nodes may represent a potential biomarker for vaccine immunogenicity, Adin concluded.