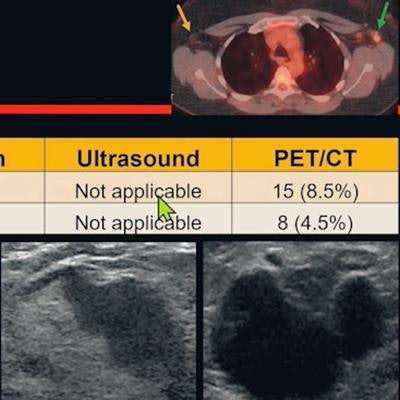 PET/CT imaging can improve survival outcomes in women with inflammatory breast cancer when used as an initial staging approach rather than ultrasound, according to a study presented at the American Roentgen Ray Society (ARRS) annual meeting in Hawaii.
In an April 18 session on breast imaging, Dr. Huong Le-Petross of the University of Texas MD Anderson Cancer Center presented a study comparing the two methods in a group of 262 patients. According to the findings, PET/CT should be performed as a first-line approach.
"Current pretreatment imaging guidelines recommend mammography and ultrasound first, with PET/CT as optional," Le-Petross said. "Our data suggests that PET/CT should be performed on all [inflammatory breast cancer] patients at initial presentation or earlier in the staging workup."
Inflammatory breast cancer is rare but aggressive and accounts for 1% to 5% of all breast cancers. Although it is a type of invasive ductal carcinoma, its symptoms and treatment are different, with swelling and redness of the breast caused by cancer cells blocking lymph vessels in the skin, Le-Petross explained.
As F-18 FDG PET/CT is a well-established method for imaging molecular activity associated with cancer (based on glucose metabolism in tumors), the group aimed to test its use in these patients compared with standard ultrasound.
The researchers included data from 176 women diagnosed with inflammatory breast cancer who underwent both PET/CT and ultrasound imaging at their institution between October 2006 and December 2019. Patients had a mean age of 51 years old at the time of diagnosis and their overall survival was 3.7 years.
Based on the analysis of two breast radiologists with more than 20 years of experience and one breast imaging fellow, PET/CT and ultrasound were equivalent for detecting abnormal ipsilateral axillary and supraclavicular adenopathy. But PET/CT found contralateral supraclavicular (SC) adenopathy on initial scans, while additional ultrasounds for this indication were not (nor are they typically) routinely performed, Le-Petross said.
On PET/CT, patients with contralateral SC adenopathy had worse prognosis (median overall survival = 1.44 years), compared with those without contralateral SC adenopathy (median overall survival = 4.1 years), according to the findings.
"We feel that if you do not do a bilateral axillary ultrasound, and you can get the PET/CT, we recommend that you do the PET/CT right up front, as early as you can, because not only is it able to detect distal disease, it is also equivalent to nodal ultrasound," Le-Petross said.