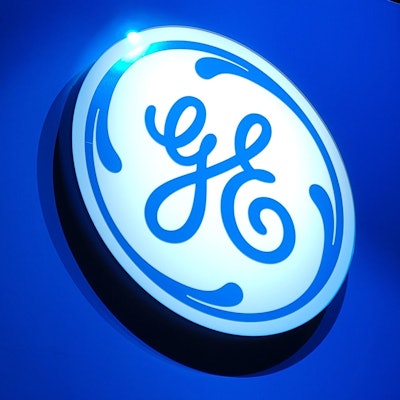 CHICAGO - At this year's RSNA meeting, GE Healthcare is focusing on two goals: improving patient outcomes and boosting the efficiency of the healthcare enterprise. Promotion of these themes comes just weeks before GE is set to spin off its healthcare division into a standalone firm to be called GE HealthCare, which it plans to do in January.
MRI
The company is highlighting what it calls Signa Experience, an artificial intelligence (AI)-driven platform for MRI that includes four components: Signa One, a new MRI user interface; AIR Recon DL, a deep learning-based image reconstruction algorithm; AIR Coils, which are made up of overlapping and flexible coil elements; and a package of automated workflow tools for simplified and automated scanning.
Additionally, GE will showcase Signa Victor, a new 1.5-tesla, 60 cm bore MRI system intended to address radiology department challenges such as the increase in MRI exams -- prompted by decreases caused by the COVID-19 pandemic in the past few years -- higher power costs, labor shortages, and staff burnout. Signa Victor will incorporate Signa Experience, it said.
CT
GE has unveiled Revolution Frontier Gen 3, which features Gemstone Spectral Imaging (GSI), a dual-energy application that the company says generates material separation and monochromatic spectral images using a projection-based reconstruction algorithm.
What's more, GSI Pro facilitates integration with the vendor's AW software applications and yields significant reductions in reconstruction times, GE said. The company has also included its ASiR-V iterative reconstruction technique, TrueFidelity application, and patient autocentering technology.
The vendor is also highlighting the availability of its Effortless Workflow artificial intelligence (AI)-powered workflow automation suite on its Revolution Apex platform. Four new automated applications have also been added: Spine Auto Views, a deep-learning algorithm that generates anatomically oriented and labeled spine images; Head Auto Views, which aligns head CT images; Spectral Auto Views, which processes images that include specific spectral data; and FastStroke with StrokeSens for assessing potential ischemic stroke cases.
GE is also discussing its progress in developing its version of photon-counting CT technology, which utilizes "Deep Silicon" CT detectors to deliver high spatial resolution images without compromising spectral resolution, according to the firm. After clinical testing, GE has developed a new prototype that features a larger detector, electrocardiogram (ECG)-gated cardiac scan capabilities for coronary artery imaging, and faster acquisition speed.
Also in its booth, GE is showcasing CT Motion, a multidose, syringeless injector for CT exams that the company developed to address the need to reduce procedure setup time, optimize patient dosing, and reduce the waste of contrast media -- especially useful in light of the contrast media shortage prompted in part by a lockdown of its Shanghai manufacturing facility this past spring.
Interventional radiology
For interventional radiology, GE is highlighting upgrades and enhancements to its Allia family of angiography systems. The vendor also featuring tools to support augmented imaging guidance, including Digital Pen, which marks areas of interest on 2D images and reconfigures the image into 3D; Assist, software that helps users plan, guide, and assess interventional procedures (Assist now also includes Embo Assist AI, which segments vascular structures to help guide embolization planning); and Liver Assist Virtual Parenchyma, which provides AI-based virtual parenchymography, the vendor said.
X-ray
GE is touting its latest generation of Definium 656, an overhead tube suspension system that boasts the highest weight capacity in GE's fixed x-ray portfolio, according to the firm. Definium 656 features five-axis motorization and autopositioning, as well as the company's Intelligent Workflow Suite, FlashPad HD wireless detectors, and Helix 2.2 image processing.
Also in its booth, GE will showcase its mobile x-ray device, AMX Navigate, for emergency room, inpatient bedside, and intensive care unit imaging. AMX Navigate now features the company's Adventure Series experience for pediatric patients and its Critical Care Suite 2.0, a collection of AI applications to assist with tasks such as endotracheal tube placement.
Molecular imaging/Nuclear medicine
The company is touting Omni Legend, a new PET/CT detector that allows users to better image short life tracers, and StarGuide, its 3D SPECT/CT system that now includes capacity for lutetium-177 for prostate cancer and uses the firm's Xeleris V workstation with AI tools such as Q.Thera, which segments lesion volumes and organs and quantifies the percent of injected and absorbed dose per organ and lesion according to the firm.
GE is also highlighting what it calls its Solid Target Platform for its PETtrace cyclotron. The platform is integrated with GE's FastLab 2 New Edition platform and can produce 100 times the amount of gallium-68 compared with a generator for radioisotope production for prostate cancer imaging, according to the vendor.
Finally, GE is touting its Xeleris V theranostics virtual processing suite of AI tools that includes Q.Thera AI, which segments organs for quantitation and dosimetry calculations and Q.Volumetrix AI, which provides segmentation and quantitation of SPECT/CT and PET/CT data.
Women's imaging
The company is showcasing its Senographe Pristina digital mammography system and Invenia ABUS 2.0 automated breast ultrasound (ABUS) scanner. Pristina now includes an option to use Pristina Dueta, an assisted compression remote control device; it can also be used with Pristina Serena 3D Biopsy. GE is also offering iCAD's ProFound AI software, which detects malignant soft tissue densities and calcifications.
As for Invenia, users now have access to an AI assistant that integrates QView Medical's QVCAD and Koios Medical's Koios DS Breast software applications for detecting and characterizing breast lesions.
The firm is also emphasizing its SenoBright HD contrast-enhanced mammography system, which can be used as a follow-up to inconclusive mammography and ultrasound exams.
GE has joined the Contrast-Enhanced Mammography Imaging Screening Trial (CMIST), which is being conducted in collaboration with the American College of Radiology (ACR) and the Breast Cancer Research Foundation (BCRF).
Finally, GE will be showcasing its Lunar iDXA system with enCore software for assessing bone density health in cancer patients post-treatment.
Ultrasound
In ultrasound, GE is highlighting Logiq Fortis, an ultrasound scanner that can be scaled to fit radiology department needs. The system features GE's Sound Architecture, which consists of its XDclear transducers, its cSound Imageformer, and new speckle reduction imaging technology.
It will also showcase its 4D cardiovascular ultrasound system, Vivid E95 Ultra Edition, and a mini 4D transesophageal echocardiography (TEE) probe that's ideal for pediatric interventional cardiology procedures, the company said.
Digital health
In its booth, GE is highlighting workload management software that boosts workflow efficiency across the department, including Imaging 360 for Operations -- which supports functions such as setting imaging protocols, tracking staff schedules, generating department analytics, and scheduling -- and Quality Care Suite 2.0, a set of AI algorithms for x-ray that deliver images to radiologist readers for every kind of patient, including pediatric patients.