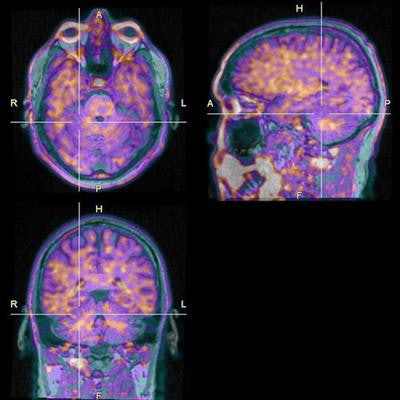 PET/MR images of tau deposits among emergency responders on 9/11 are concerning, but they fall short of a definitive link to dementia, according to research presented at the Society of Nuclear Medicine and Molecular Imaging's annual meeting in Vancouver, Canada.
Researchers from Renaissance School of Medicine at Stony Brook and Northwell Health in New York found highly elevated levels of tau protein in several first responders to the terrorist attacks at the World Trade Center, but most of the subjects had not progressed to Alzheimer's disease or dementia.
"The preliminary results of this pilot study show that most first responders have relatively high tau levels, but are not consistent with Alzheimer's disease," said Juin Zhou, medical student at Stony Brook. "However, we have two subjects with very high tau levels [who are] cognitively unimpaired."
Search-and-rescue operations conducted after the collapse of the two World Trade Center towers on September 11, 2001, exposed emergency responders to extremely adverse emotional, mental, and physical conditions that included exposure to toxic substances. Over the course of the following years, approximately 23% of this population developed chronic post-traumatic stress disorder (PTSD), four times greater than approximately 6% of the general population.
PTSD, cognitive impairment
Previous studies involving these emergency workers have shown that the severity of their PTSD symptoms correlates to their degree of cognitive impairment. Other research has found evidence of unique neuropathology among the cognitively impaired within this same group. More specifically, cognitively impaired responders presented "with reduced cortical thickness, compared with cognitively normal responders, as well as adversely affected brain regions in responders with PTSD," Zhou told SNMMI attendees.
"As the responders are approaching midlife, they also appear to have a higher incidence of cognitive impairment than the general population as well within their same age group," she said.
Given that cognitive impairment is quite common among Alzheimer's disease and dementia patients, Zhou and her colleagues created a pilot study to use PET/MRI to assess the extent and location of tau deposits, which have been linked to both conditions, across regions of the brain that included the amygdala and the inferior temporal and lateral occipital lobes.
To date, the researchers have enrolled 14 responders (range, 50-61 years), 11 of whom (78%) are cognitively impaired and five (45%) of whom have PTSD. Subjects are required to take the Montreal Cognitive Assessment (MoCA) test to gauge their cognitive abilities and are excluded from the study if they have any conditions, such as a history of psychosis, that would adversely skew cognitive evaluations and results.
Next up were PET/MRI scans (Biograph mMR, Siemens Healthineers), which began 80 to 100 minutes after injection of the PET radiotracer F-18 flortaucipir (Tauvid, Avid Radiopharmaceuticals), which has shown an ability to detect tau pathology and help differentiate between individuals with Alzheimer's disease and mild cognitive impairment and healthy controls. PET images then were registered to T1-weighted magnetization prepared rapid acquisition gradient echo (MPRAGE) MR images. Standardized uptake values (SUVs) across brain regions were partially corrected and normalized using the cerebellar gray matter.
Insufficient for diagnosis
While the researchers found nine responders (64%) met the criteria for preclinical Alzheimer's disease, only three responders (21%) had advanced to stage I-II Alzheimer's with abnormally high uptake in the entorhinal cortex. Most interestingly, Zhou and colleagues noted in their abstract that only one responder "had patterns consistent with stage III [Alzheimer's], and one had uptake in the temporal cortex consistent with advanced Alzheimer's, though not all regions expected to exhibit tau increases at stage IV were affected."
Given the results so far, Zhou and colleagues concluded that "tau status alone is not sufficient to diagnose Alzheimer's disease and related dementias, even in the context of cognitive impairment."
They added, however, that it is "concerning that these responders have increased tau signal at ages where Alzheimer's disease and related dementias is rare. In the responder with the greatest tau load, the distribution of the tau proteins did not follow the expected pattern, suggesting neuropathology that differs from patterns seen in conventional Alzheimer's disease and related dementias."