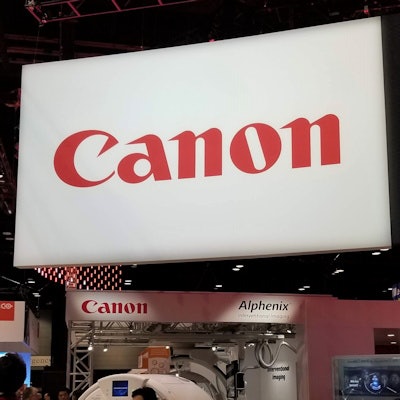 A new CT scanner with a wide 90-cm bore, new applications for artificial intelligence (AI)-based reconstruction of PET/CT, and cardiac spectral CT in a single heartbeat are among the highlights in the booth of Canon Medical Systems USA at this week's virtual RSNA 2020 show.
CT
Canon will be highlighting the Aquilion Exceed LB scanner, with a 90-cm bore, in the CT section of its virtual booth. First unveiled at the American Society for Radiation Oncology (ASTRO) meeting in October, the system was designed from the ground up to be dedicated to radiation therapy planning procedures, while also serving in a shared-service role for diagnostic CT use.
Aquilion Exceed LB's extra-wide bore better supports the unique patient positioning requirements of radiation oncology, while also making the system more suitable for use in interventional radiology. The system is a 160-slice CT scanner with 4 cm of coverage per rotation, and image data are reconstructed across the entire 90-cm field-of-view.
Exceed LB also uses Canon's Advanced intelligent Clear-IQ Engine (AiCE) Deep Learning Reconstruction (DLR) technology and workflow automation such as one-touch 3D isocentering to enable faster image acquisition. The scanner is pending 510(k) clearance from the U.S. Food and Drug Administration.
In other CT developments on display, Canon is launching a new cardiac spectral CT mode that's capable of capturing studies in a single heartbeat. The company hopes the mode will enable spectral to finally achieve its real potential by making it easier to perform.
The adoption of spectral CT has been slow, and few institutions use it for routine studies. To solve this problem, Canon has combined artificial intelligence data reconstruction and rapid kV switching to offer a technique called deep-learning spectral CT on its flagship Aquilion One / Prism scanner.
Because the scanner can image the entire heart in as few as 0.275 seconds, it's now possible to acquire spectral images of the entire heart in a single heartbeat. Clinical applications could include virtual single-energy imaging of coronary plaque or the visualization and quantification of iodine uptake in the myocardium. The technique is pending 510(k) clearance.
Canon has also made its AiCE reconstruction technology -- first launched on high-end CT platforms -- available across its entire CT production line, including the entry-level Aquilion Lightning system. AiCE is pending 510(k) clearance on Lightning.
Finally, Canon will demonstrate an AI-powered algorithm designed to triage and identify large-vessel occlusions in stroke patients. If a critical case is identified based on CT data, the algorithm automatically sends an alert to clinicians that the patient should be treated quickly.
MRI
In MRI, Canon is expanding the number of clinical applications for which AiCE DLR can be used. AiCE DLR can now be used for almost all clinical applications on the company's Vantage Orian 1.5-tesla scanner.
The new applications run from the prostate to the shoulders, including all joints and the heart, pelvis, abdomen, and spine. What's more, AiCE DLR can be combined with accelerated scanning technologies, such Canon's compressed Speeder technique, which received 510(k) clearance earlier this year.
Compressed Speeder has also been enhanced, according to the company. Previously, the technique was available exclusively for 2D scanning, which makes up about 80% of MRI procedure volume. Now, it can be used for 3D MRI as well, a move that Canon hopes will bring 3D more into routine MRI workflow.
Another RSNA 2020 highlight for Canon is the introduction of a fat fraction quantification tool to assess fatty liver disease.
Finally, Canon is discussing the results of what it calls the AiCE Challenge, an experiment in which blinded observers compared conventional 3-tesla MR images with 1.5-tesla images reconstructed with AiCE and were asked to tell the two apart. The company said that radiologists got the correct answer only 50% of the time, indicating the equivalence of AiCE-reconstructed 1.5-tesla images to the 3-tesla gold standard.
Molecular imaging
Canon entered the U.S. market for molecular imaging systems in 2014, and the company ramped up its investment in the segment with the introduction of the Cartesion Prime digital PET/CT scanner at the RSNA 2019 meeting.
In its RSNA 2020 virtual booth, Canon is highlighting the advantages of an air-cooled PET/CT system, rather than the water-cooled scanners that its competitors offer. Water cooling requires the installation of a chiller, which entails running a water line into the scanning room if it doesn't already have one.
The company is also discussing the application of AiCE DLR data reconstruction to PET/CT images. Canon believes that the technique can improve the signal-to-noise ratio of PET images, which can lead to faster scans and lower radiation dose, as well as better quantification. What's more, the improvements will occur regardless of patient size.
Canon is awaiting FDA clearance of AiCE for Cartesion Prime.
Ultrasound
In ultrasound, Canon is demonstrating new features on its Aplio i-series family of ultrasound scanners, which include the Aplio i700, Aplio i800, and Aplio i900 systems.
The company's new FleXstyle technology features a programmable touchscreen panel for tailored layout and electric lifting that's designed to make the system more ergonomic for sonographers by making it easier to raise and lower the control panel.
Ultra-Wide View gives sonographers a wider view of images to visualize more patient anatomy and help them acquire images quickly. The technique is designed to improve diagnostic confidence by enlarging visualized areas under examination, while also preserving high image quality. Canon believes Ultra-Wide View can also improve visualization to support biometric assessment of large organs like the liver and placenta. The technique will also be available on the Aplio a-series.
In other ultrasound developments, Canon has rolled out software on Aplio i-series scanners designed to help users determine cutoff values for shear-wave elastography scans to determine liver stiffness in assessments of compensated advanced chronic liver disease (cACLD). The software displays the calculated measurement averages from multiple samples of the liver, and it is customizable based on the "rule of four" guidelines issued by the Society of Radiologists in Ultrasound.
The system offers data on standard deviation and interquartile range (IQR), in addition to a visual propagation map, that helps users ensure accurate and confident application of the "rule of four" to determine cACLD and for the assessment of other liver pathologies.
X-ray and vascular imaging
In x-ray, Omnera 500A is a new digital radiography (DR) system that Canon is launching at RSNA 2020. The system is designed for high-throughput environments, with features designed to automated processes and expand workflow.
Features on the system include autopositioning technology, autotracking of the x-ray tube and detector, and synchronization of the tilting wall stand. In addition, Omnera 500A's detector can be charged in both the table and the wall stand. The system includes Canon's CXDI detector technology, and it has 510(k) clearance.
In vascular imaging, Canon is launching a new high-definition digital detector as an option on its interventional radiology systems. Hi-Def is a 12 x 16-inch flat-panel detector that is available on the company's Sky+ and 4D CT angiography systems.
Hi-Def uses a combination of detector materials for normal and high-resolution operation, with amorphous silicon for conventional resolution and crystalline silicon in high-resolution mode. Users can switch back and forth with a single button push, with the high-resolution mode available in 3-, 2.3-, and 1.5-inch views.
Canon believes that the high-resolution mode will be useful for complex interventional procedures, such as complex embolizations and aneurysm treatments. The company expects deliveries of Hi-Def to begin in the first quarter of 2021.