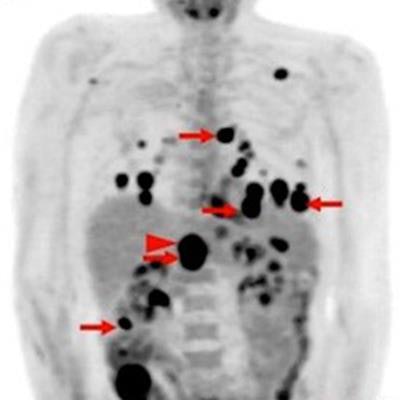 Researchers have developed a new FDG-PET/CT-based approach to better monitor the efficacy of immunotherapy for patients with metastatic melanoma, according to a study published in the March issue of the Journal of Nuclear Medicine.
The immunotherapy treatment involves ipilimumab, a checkpoint inhibitor that allows the body's immune system to attack cancer cells. The results show that determining tumor response to ipilimumab treatment using an immunotherapy-modified PET Response Criteria in Solid Tumors (PERCIST) model correlated significantly with survival of patients with advanced melanoma (JNM, March 2019, Vol. 60:3, pp. 335-341).
"FDG-PET/CT is routinely used to stage melanoma. The present study suggests that it also can be used to monitor tumor response to ipilimumab therapy and predict outcome," said co-author Dr. Wolfgang Weber of Technical University Munich and formerly of Memorial Sloan Kettering Cancer Center in a statement. "FDG-PET can identify patients with favorable and unfavorable prognoses -- leading to therapy escalation (e.g., combination immunotherapy) or de-escalation (e.g., reduced number of therapy cycles)." This means that the therapy can be better tailored to the patient's response.
Until now, the use of FDG-PET/CT to monitor tumor response to this form of immunotherapy has been somewhat suspect because inflammatory reactions to the treatment could result in false-positive findings. Previous clinical studies also have shown that ipilimumab can significantly improve the survival of patients with metastatic melanoma, compared with chemotherapy, but only for 15% to 20% of melanoma patients.
To determine the best way to assess a patient's response to ipilimumab therapy, this retrospective study included 60 metastatic melanoma patients who underwent FDG-PET/CT scans before and after treatment. Baseline FDG-PET/CT scans were obtained at a median of 2.4 weeks (range, 0-10 weeks) before initiation of ipilimumab therapy, with follow-up scans performed a median of 2.9 weeks (range, 1-11.1 weeks) after the last dose of ipilimumab.
Weber and colleagues assessed tumor response based on changes in standardized uptake value normalized to lean body mass (SULpeak) for up to five lesions (PERCIST5). A second analysis (PERCIST1) was performed of the lesion with the highest SULpeak between baseline and follow-up FDG-PET/CT scans.
To further evaluate new inflammatory lesions, the researchers employed an immunotherapy-modified PERCIST with a five-lesion analysis (imPERCIST5) approach. In imPERCIST5, a new lesion on FDG-PET/CT was considered progressive disease only if it increased the sum of SULpeak by 30%.
The assessment of tumor response to ipilimumab treatment using PERCIST correlated significantly with survival of patients with advanced melanoma. The modifications from PERCIST to imPERCIST5 additionally improved the prognostic value of response assessment by FDG-PET/CT, with two-year overall survival of 66% for treatment responders compared with 29% for nonresponders (p < 0.003).
"These findings are encouraging for the use of FDG-PET/CT to assess tumor response to ipilimumab in research and clinical practice," the authors concluded.