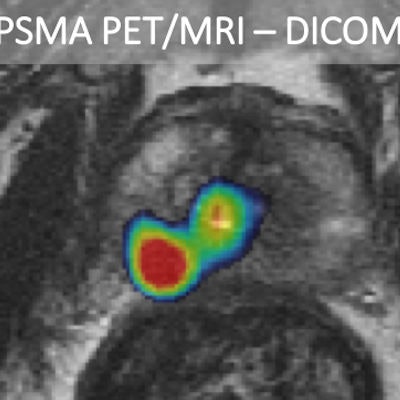 VIENNA - PET/MRI with the radiopharmaceutical gallium-68 (Ga-68) prostate-specific membrane antigen-11 (PSMA-11) could become a valuable tool in image-guided biopsy and for detecting significant prostate cancer, researchers reported on Wednesday at ECR 2019.
Ga-68 PSMA-11 PET/MRI provided positive results in 64% of cases and missed only one significant prostate cancer. Contrast-enhanced PET also compensated for deficiencies in multiparametric MRI.
"For 90% of the patients, I think that Ga-68 PSMA-11 PET has the potential to detect significant prostate cancer, can add information to the multiparametric MRI, and can be used to do image-guided biopsies," said Dr. Irene Burger from the department of nuclear medicine at University Hospital Zurich.
Modality comparisons
MRI-guided biopsy has significantly improved the detection rate of prostate cancer in patients with elevated prostate-specific antigen (PSA) levels, compared with transrectal biopsy. Multiparametric MRI has also helped to detect and stage primary prostate cancer; however, it can still miss 20% to 25% of significant disease.
Ga-68 PSMA-11 PET has been increasingly used to determine the biochemical recurrence of prostate cancer, as well as in the staging of prostate cancer, and has shown some very promising results, Burger said.
Thus, Burger and colleagues wanted to see how Ga-68 PSMA-11 PET and multiparametric MRI together might advance prostate cancer detection and better guide biopsies. To do so, the researchers conducted a prospective trial by enrolling patients with suspicious lesions on multiparametric MRI, a PI-RADS score of at least 3, and an elevated level of PSA that would be cause for a targeted biopsy.
PET/MRI tandem
Patients underwent a dedicated PET/MRI scan, which included 80 MBq of Ga-68 PSMA for PET imaging, and T1-, T2-, and diffusion-weighted MR imaging sequences. For image-guided biopsy, the resulting data were fed into the biopsy system (BiopSee, MedCom).
All cancer lesions with a Gleason score (GS) of 3+3 or more were assessed. Ga-68 PSMA-11 accumulation was quantified in the cancer area using maximum standardized uptake values (SUVmax). Significant prostate cancer was defined as having a GS of 4+3 or more or GS 3+4 with more than 6-mm core length.
The researchers' interim analysis of the data included 25 patients (mean age, 66 years; range, 55-79 years) who underwent PET/MRI and pathology. Seventeen (68%) of the 25 patients had significant prostate cancer, while the other eight (32%) had no tumor on the targeted biopsy and on the template biopsy.
Ga-68 PSMA-11 PET provided positive prostate cancer results in 16 cases (64%) with a median SUVmax of 7.8 (range, 5.2-19.3). One significant cancer (4%) was missed by Ga-68 PSMA-11 PET, and there was one false positive (4%).
The single PET-negative lesion had a GS of 3+4, with a core length of 6 mm. Two areas were considered suspicious for cancer with mild Ga-68 PSMA-11 uptake (SUVmax of 5.5 and 5.1, respectively).
"Using Ga-68 PSMA-11 on PET/MRI, we saw that usually the more-aggressive prostate cancer has very high PSMA accumulation, correlating very well with high PSMA expression on immunohistochemistry," Burger added.
Finally, specificity with Ga-68 PSMA-11 PET/MRI was greater, with only one false positive; multiparametric MRI registered eight false positives (32%) among the 25 patients. The false positives consisted of four patients with PI-RADS 3 and four with PI-RADS 4.