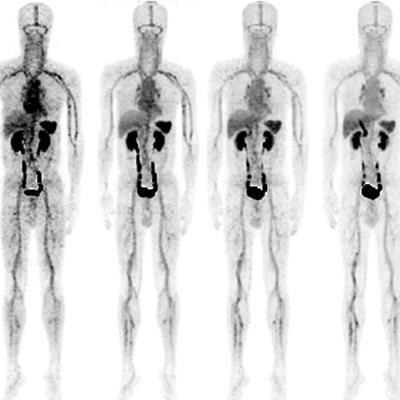 Researchers from South Korea and Germany are reporting excellent image quality and a high detection rate with PET/CT for acute venous thromboembolism (VTE) thanks to a new radiotracer currently being developed, according to a paper published in the February issue of the Journal of Nuclear Medicine.
The tracer, F-18 GP1, targets glycoprotein (GP) IIb/IIIa receptors and is designed to improve the visualization of blood clots in veins and arteries. In this prospective study, F-18 GP1 PET/CT detected blood clots in distal veins below the knee and had a high initial uptake in the spleen, kidneys, and blood pool, followed by rapid clearance. The tracer also was well-tolerated by the 20 patients (JNM, February 2019, Vol. 60:2, pp. 244-249).
"Conventional imaging with ultrasonography, CT venography, or CT pulmonary angiography is typically unable to distinguish old thromboemboli from new and potentially unstable thromboemboli," said study co-author Dr. Dae Hyuk Moon from Asan Medical Center in Seoul in a statement. "The F-18 GP1 tracer used in this study offers the unique ability to detect, characterize, and track newly formed thrombi that have a high risk for embolization and further complication."
F-18 GP1's developers include Berlin-based Bayer and radiopharmaceutical developer Life Molecular Imaging (formerly Piramal Imaging). In a July 2017 study, the researchers reported strong accumulation of the tracer at the site of thrombus formation in monkeys. The tracer's binding ability also was not adversely affected by anticoagulants such as aspirin and heparin.
In the current study, F-18 GP1's safety and diagnostic performance with PET/CT were assessed in 10 patients with acute deep vein thrombosis and 10 patients with pulmonary embolism. Each patient had signs or symptoms of VTE and one or more VTE foci confirmed by standard imaging.
In reviewing the F-18 GP1-enhanced images, the researchers could detect thromboembolic foci in all 20 patients and distinguish between tracer uptake in thromboemboli and the blood pool. There was a positive correlation between F-18 GP1 uptake and P-selectin expression on circulating platelets, which shows the presence of activated platelets and acute VTE. In addition, the researchers found increased uptake in the distal veins of the leg in 12 patients that was not detected with conventional imaging.
"Taken together, the findings of this study indicate that F-18 GP1 PET/CT may provide an opportunity to overcome the limitations of current diagnostic strategies for acute VTE," the group concluded.