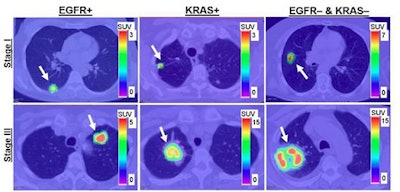 With the help of FDG-PET and an advanced image analysis technique known as radiomics, researchers have identified genetic cell mutations that can cause non-small cell lung cancer (NSCLC), according to a study published in the April issue of the Journal of Nuclear Medicine.
This proof-of-concept study could help develop an imaging biomarker to identify the presence of certain mutations using FDG-PET scans as an adjunct to molecular testing, leading to the most appropriate treatment plan for NSCLC patients, said lead author Stephen Yip, PhD, from Harvard Medical School in a statement from the Society of Nuclear Medicine and Molecular Imaging (SNMMI).
While metabolic tumor characteristics have been quantified by PET radiomics, little is known about the relationship between these phenotypes and the underlying mutations that cause them.
Currently, molecular testing based on biopsies of tumor tissue or surgical resection is the standard method to identify mutation status. However, this technique can be limited by invasive procedures and long processing times.
In the study, 348 NSCLC patients underwent diagnostic FDG-PET scans and were tested for genetic mutations. The analysis evaluated 19 independent radiomic features to quantify phenotypic traits and two conventional features, metabolic tumor volume and maximum standardized uptake value (JNM, April 2017, Vol. 58: 4, pp. 569-576).
The analysis revealed a Kirsten rat sarcoma (KRAS) viral mutation in 96 patients (28%) and an epidermal growth factor receptor (EGFR) mutation in 44 patients (13%). The results indicate that EGFR mutations may drive different metabolic tumor phenotypes that are captured in PET images, while KRAS-mutated tumors do not.