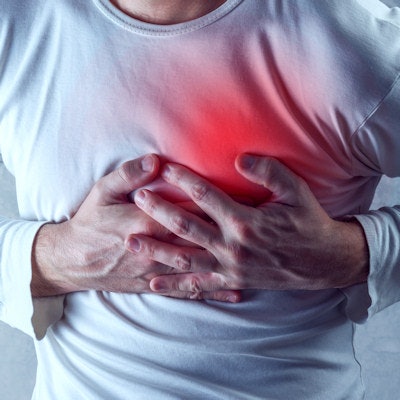 PET/CT scans have identified activity in a stress-related structure in the brain that could be linked to an increased risk of cardiovascular disease, according to a study published online January 11 in Lancet.
Researchers from Massachusetts General Hospital (MGH) and the Icahn School of Medicine at Mount Sinai discovered a pathway leading from the amygdala, which is the apparent activation site, through elevated immune system activity to an increased incidence of cardiovascular events.
The researchers made their discoveries through two complementary studies. The study conducted at MGH analyzed imaging and medical records from approximately 300 patients who underwent FDG-PET/CT brain imaging primarily for cancer screening. All participants had no active cancer or cardiovascular disease at the time of imaging. The Mount Sinai study enrolled 13 people with a history of post-traumatic stress disorder who were scanned with FDG-PET to measure both amygdala activity and arterial inflammation (Lancet, January 11, 2017).
In the MGH arm, 22 subjects experienced an adverse cardiovascular event, such as a heart attack, stroke, or episodes of angina, in the follow-up period. Most significantly, the prior level of activity in the amygdala strongly predicted the risk of the subsequent cardiovascular event.
In addition, activity in the amygdala was associated with the timing of events. Subjects with the highest levels of activity had events sooner than patients with lower activation. Greater amygdala activity was also associated with elevated activity of the blood-cell-forming tissue in the bone marrow and spleen, along with increased arterial inflammation.
In the smaller Mount Sinai study, participants' current stress levels were strongly associated with both activity in the amygdala and arterial inflammation.
"These findings suggest several potential opportunities to reduce cardiovascular risk attributable to stress," said lead author Dr. Ahmed Tawakol from MGH in a statement. It would be reasonable to suggest to patients with an increased risk of cardiovascular disease that they use stress-reducing techniques, he added.