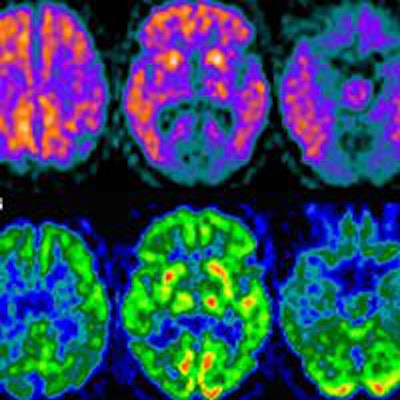 PET images with the radiopharmaceuticals FDG and Pittsburgh Compound B (PiB) have shown a connection between sleep disorders such as sleep apnea and preclinical Alzheimer's among the cognitively normal elderly, according to researchers in New York City.
The study from NYU Langone Medical Center adds evidence to the possible connection between sleep disorders and cognitive impairment, and it comes about a year after the same researchers used MRI and PET to reach a similar conclusion. The new research was presented at last month's 2014 Alzheimer's Association International Conference in Copenhagen.
"There have been studies that show sleep apnea could cause hypometabolism in the brain, but this is the first study which shows the effect is stronger in the areas more vulnerable to Alzheimer's," study co-author Dr. Ricardo Osorio, a research assistant professor of psychiatry in NYU Langone's Sleep, Aging, and Memory (SAM) Lab, told AuntMinnie.com. The study's lead author is Dr. Tyler Gumb, a sleep research data associate in the SAM Lab.
Sleep apnea occurrence
Sleep-disordered breathing such as sleep apnea affects up to 70% of the elderly population and causes intermittent hypoxia and disrupted sleep, which may increase the risk for Alzheimer's disease. Sleep-disordered breathing and Alzheimer's also share a number of risk factors, and there is an increased prevalence of sleep-disordered breathing in Alzheimer's patients.
Sleep apnea has two peaks during one's life, Osorio explained: "It is very common in middle-aged people who are obese and male. We also see that the incidence of sleep apnea increases with age and is very frequent in the elderly. So we thought that sleep apnea could be connected to Alzheimer's disease."
FDG-PET was used to detect glucose metabolism in the brain, while PiB-PET was used to detect amyloid deposition. Both tracers are commonly used in normal elderly people to assess the risk of developing Alzheimer's; however, they had not been used to determine a relationship between Alzheimer's and sleep-disordered breathing in this population.
For the current investigation, Osorio and colleagues collected data from 74 healthy, cognitively normal elderly subjects enrolled in longitudinal studies for normal aging and risk of cognitive decline. None of the participants had Alzheimer's. The study excluded individuals with uncontrolled hypertension, diabetes, or heart or thyroid disease.
All participants were given a full clinical examination, including cognitive testing and psychiatric and neurological evaluations, along with a sleep study. Their sleep was monitored at home for two nights with a device to chart sleep patterns and oxygen levels.
Interrupted sleep patterns
The researchers used the apnea-hypopnea index (AHI) to determine the severity of sleep apnea based on the number of incidents a person experiences per hour. Normal apnea was defined as fewer than five incidents per hour, mild apnea was five to 15 events per hour, and moderate to severe apnea was more than 15 occurrences per hour.
"Usually, when you have an apnea or a hypopnea, the oxygen level in your blood drops," Osorio explained. "That's how this index is calculated. You have either an apnea, which is the complete cessation of oxygen, or there is a hypopnea with a cessation of oxygen, which drops the oxygen level by 4%."
The researchers then created two groups: The AHI4% group included apneas and hypopneas in which oxygen desaturation was greater than 4%, while the AHIall group included all apneas and hypopneas.
Seventy subjects received both FDG-PET and PiB-PET scans (Biograph mCT, Siemens Healthcare, or Discovery LS, GE Healthcare) on the same day, using a standardized imaging protocol. Four participants only received an FDG-PET scan.
To determine a correlation between sleep apnea and Alzheimer's, the researchers measured standardized uptake value ratios (SUVRs) in different regions of the brain using the FDG-PET and PiB-PET images. The brain areas included the middle temporal lobe, inferior parietal lobule, lateral temporal lobe, posterior cingulate cortex/precuneus, prefrontal cortex, occipital cortex, and thalamus.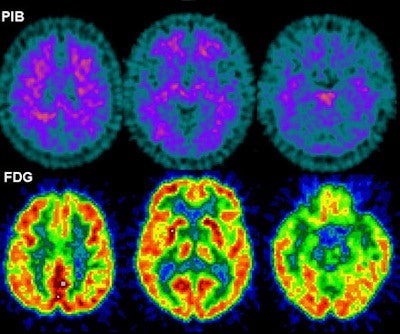 The resulting SUVRs (see chart) suggest an association between sleep-disordered breathing and glucose hypometabolism in regions of the brain vulnerable to Alzheimer's disease, "which may indicate increased risk for Alzheimer's in cognitively normal elderly," according to the authors. Also, while the whole brain was hypometabolic, the effect was stronger in Alzheimer's-vulnerable regions.
"What you see are the areas that are usually vulnerable for Alzheimer's, such as the middle temporal lobe or the prefrontal cortex," Osorio said. "If the person is going to develop Alzheimer's, those areas start to show hypometabolism years before disease onset."
Radiotracer uptake (SUVR) by brain region and apnea status
AHI4%
AHIall
Brain regions vulnerable to Alzheimer's
Middle temporal lobe
15.58
15.09
Inferior parietal lobe
16.94
16.87
Lateral temporal lobe
13.12
12.84
Posterior cingulate cortex/precuneus
13.50
12.20
Prefrontal cortex
18.18
17.29
Brain regions not vulnerable to Alzheimer's
Occipital cortex
10.38
9.77
Thalamus
7.92
6.58
Because the SUVRs were so similar between the two groups in each brain region, the cause-and-effect relationship between sleep disorders and Alzheimer's is uncertain.
"Maybe these people are having preclinical Alzheimer's that is causing the sleep apnea, or it could be the other way around," Osorio said. "Sleep apnea may be causing those regions that are abnormal and hypometabolic, and that could be relevant to the degree of cognitive decline."
Precautionary measures
If sleep apnea does contribute to Alzheimer's, there are precautions people can take, such as using continuous positive airway pressure (CPAP) devices that are designed to normalize breathing.
"Weight loss for people who are obese or sleeping more on your side instead of on your back are things that also could decrease the risks," Osorio added. "In general, the idea of preventing or at least delaying the onset of Alzheimer's by improving your sleep is very stimulating, because there is a lot of work that we can do there."
The researchers have already initiated a study to follow subjects in the coming years to further investigate the relationship between sleep apnea and Alzheimer's disease.