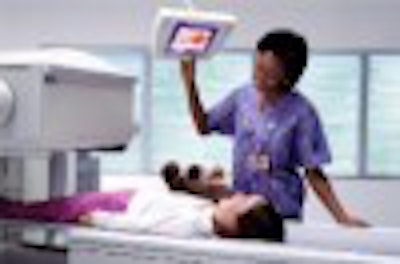 Nuclear medicine enjoyed some good news this year, as the fast-growing PET market escaped drastic cuts in Medicare reimbursement proposed by the Centers for Medicare and Medicaid Services. CMS decided this November to maintain the 2002 PET reimbursement rates in 2003.
Leading PET proponents believe the modality may soon be reimbursable for all cancers, and that infectious diseases will become a major focus of PET procedures. Functional imaging of the brain and heart is being studied and applied, while scintimammography has become an important adjunct to film-screen mammograms.
At the same time, new radiopharmaceutical agents are being developed, new scanners are coming onto the market with new detector materials, and new uses are being investigated for PET and SPECT.
Major vendors are manufacturing hybrid PET/CT machines to combine functional and anatomic imaging by hardware, while software is likely to play an even greater role in image fusion. At this year's RSNA show, expect to see gamma cameras optimized for scintimammography from at least two vendors
CTI Molecular Imaging
Booth #5114
PET pioneer CTI Molecular Imaging will show its new Reveal XVI high-end PET/CT scanner, which features a 16-slice CT system and LSO-based PET detectors. The scanner's operating system is based on the Siemens Syngo platform and provides data connectivity to other systems, including radiation therapy planning systems. It also supports CT fluoroscopy for real-time interventional studies.
Reveal XVI boasts <0.5-second rotation, or 32 slices per second, for CT angiography. It has a 70-cm gantry opening and can accommodate radiation therapy positioning devices. Other clinical applications possible with the scanner include comprehensive cardiac imaging with combined CTA, calcium scoring, and functional imaging for cardiac tissue viability, as well as whole-body CT.
FDA clearance is pending. The Knoxville, TN, company expects to launch Reveal XVI at luminary sites in January and be in full production by the second quarter of 2003. The system has a list price of approximately $2.5 million, depending on options.
Dilon Technologies
Booth #2705 (IMS-Giotto/Medx)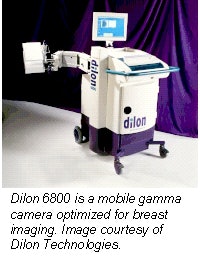 This Newport News, VA-based company was founded in 1996 to design, manufacture and commercialize new products based on research conducted at local national laboratories. The first of these products, the Dilon 6800 mobile gamma camera, is based on imaging methodologies developed at the Department of Energy's Thomas Jefferson National Accelerator Facility (Jefferson Lab).
Dilon 6800 is optimized for breast imaging and brings higher sensitivity to scintimammography, according to the company. The camera can also be used for imaging other small organs, such as the thyroid and lymph nodes.
The camera has dead space of 10 mm, a useful field of view of 152 x 203 mm, and an energy range of 70 to 200 keV. Dilon has received FDA 510(k) clearance for the camera and began product deliveries during 2002.
Gamma Medica Instruments
Booth #4954
This Northridge, CA-based manufacturer specializes in small-field-of-view gamma cameras. Its scintimammography LumaGEM 3200S replaces the earlier LumaGEM. The new model uses solid-state digital cadmium zinc telluride (CZT) detectors in place of the older sodium iodide detectors, and the system's field-of-view is increased to 16 x 20 cm.
LumaGEM 3200S mounts directly to all popular mammography gantries. It is used as an adjunct to film-screen mammograms, giving improved diagnostic ability in dense breasts, according to the company. The system's 510(k) FDA clearance is pending.
Gamma Medica will also feature X-SPECT, a new SPECT/CT system for in vivo molecular imaging of small animals. X-SPECT is a newer version of the company's A-SPECT system. X-SPECT differs in that the animal is positioned horizontally rather than vertically, and the animal is stationary. With the A-SPECT, the animal is vertical and revolves within the system. The X-SPECT has two CT options: 2 inches for mice and rats, 4.72 inches for larger animals.
GE Medical Systems
Booth #4129
GE plans to show its new Millennium Myosight dedicated cardiac gamma camera at the RSNA show. The system debuted at the American Society of Nuclear Cardiology conference in September.
The camera features a dual-detector, variable-angle design and can perform all routine cardiac imaging procedures, including 180-degree and 360-degree SPECT. It's built to operate with the Waukesha, WI-based vendor's Genie acquisition station, although users can migrate to the eNTEGRA functional imaging workstation.
The eNTEGRA workstation will be shown with a new 2.5 software release with second-generation PET and PET/CT applications, including cardiac PET and fusion.
For the Discovery LS hybrid PET-CT scanner, GE will highlight the system's multislice capability of up to 16 slices per rotation, as well as its transaxial resolution and low scatter fraction.
Positron
Booth #7100
The Houston-based PET manufacturer will show the latest version of its scanner family, mPower, which received FDA clearance in August for new iterative reconstruction (IR) and PITA (post-injection transmission acquisition) software, as well as clearance for part 10 of the DICOM standard. The mPower system succeeds the earlier Posicam HZ and the Posicam HZL scanners.
Siemens Medical Solutions – Nuclear Medicine Group
Booth #1029
The Siemens nuclear medicine unit of Hoffman Estates, IL, will feature its E.Cam Signature Series line of SPECT systems, which it debuted at this year's Society of Nuclear Medicine show.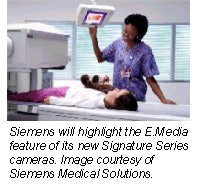 Signature series cameras are available in seven different models, covering oncology, cardiology, and general radiology applications. Each camera is based on HD4 digital detectors, with simplified construction of the detector head for reduced maintenance. The cameras include E.Media, an integrated audio/visual clinical education and patient comfort system, providing on-board interactive multimedia capability.
All models will have Flash 3D (currently a work-in-progress), a 3-D beam-modeling and iterative reconstruction technology designed to improve image quality.
Many of the Signature Series features can be added as field upgrades to existing E.Cam gamma cameras already in operation. The Series has 510(k) clearance from the FDA, and is available throughout the world.
Toshiba America Medical Systems
Booth #7729
The Tustin, CA-based vendor will again be showing its three variants of the T.Cam series gamma camera, which it developed with Siemens Medical Solutions. The two companies also collaborated on T.Cam's e.soft software and workstation.
By Robert Bruce
AuntMinnie.com contributing writer
November 18, 2002
Copyright © 2002 AuntMinnie.com