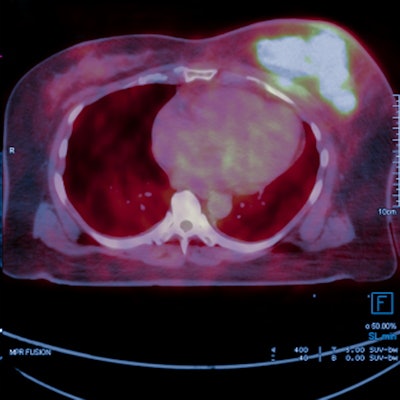 An experimental PET imaging agent shows promise for imaging inflammation in the lungs -- which could have implications for a range of common diseases, including COVID-19, according to results from an animal study published in Redox Biology.
The study findings suggest that the PET radiotracer could be a powerful way to quantify inflammation, senior author Vijay Sharma, PhD, of Washington University School of Medicine in St. Louis, MO, said in a statement released September 14 by the university.
"Doctors don't have a good way to image inflammation at earliest stages, which can hamper the diagnosis and treatment of disease," he said. "We focused on lung injury in this paper, but in principle, this tracer could be applied to other conditions where you have inflammation: atherosclerosis, cardio- and pulmonary toxicity caused by chemotherapy, transplant rejection, you name it. If we had approval today, this tracer could even be used for COVID-19."
Blood tests can show that part of a patient's body is inflamed, but there's no good way to locate the problem, the researchers noted. The new PET agent, called Galuminox, identifies the location and intensity of inflammation so that clinicians can better diagnose disease and craft a treatment strategy.
Galuminox detects toxic molecules called reactive oxygen species (ROS) -- the presence of which indicate inflammatory processes -- and is used with the metal gallium-68 (Redox Biology, August 21, 2020).
Sharma's team conducted an animal study for the tracer that modeled acute respiratory distress syndrome (ARDS) by injecting mice with lipopolysaccharide, a molecule that prompts reactive oxygen species production. The researchers found that Galuminox concentrated in the lungs of mice that had been injected with the molecule and that higher amounts of retention corresponded with poor pulmonary function.
"[Our] study shows that [Galuminox], a PET radiotracer (incorporated with Ga-68, a generator-produced radionuclide for widespread availability of the technology) can be synthesized in high yield and radiochemical purity in approximately 30 minutes for preclinical imaging," the team wrote. "[Galuminox] PET imaging could provide a noninvasive diagnosis for ROS mediated acute lung injury and investigating the role of ROS in pathophysiology of other chronic conditions in vivo."
One of Galuminox's benefits is that the tracer consists of a metal rather than a radioactive compound, and thus it can be made with a generator rather than a cyclotron, the researchers noted.
They plan to further study applications for Galuminox in collaboration with Washington University's PET Radiotracer Translation and Resource Center, which is funded by the U.S. National Institute of Biomedical Imaging and Bioengineering.
"This tracer could help us assess changes in reactive oxygen species generation over the course of a disease progression, which would provide clinicians better information on when it's best to start and suspend therapy," study coauthor Andrew Gelman, PhD, said in the university statement. Until now, we haven't had a tool to do that."