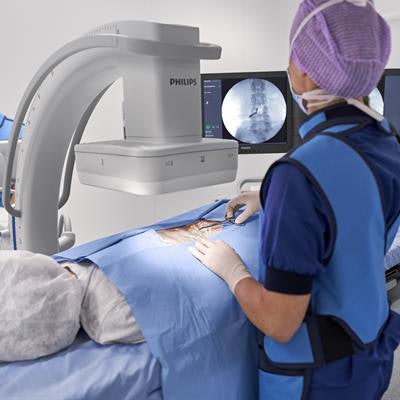 Philips Healthcare is launching a new mobile C-arm called Zenition that brings to the mobile C-arm segment advanced technologies first pioneered on the company's Azurion interventional angiography system.
Zenition is designed to meet growing demand for the use of mobile C-arms to perform increasingly complex interventional procedures. These procedures are requiring hospitals to have mobile C-arms available that easily adapt to the needs of different types of surgery and different operators, according to the company.
Many of the advances incorporated into Zenition were first found on the Azurion angiography system, which debuted in 2017. These include a tablet-like user interface and simplified workflow that enables an operator who has been trained on one system to move easily to another.
Zenition sports a compact design, is able to remember C-arm positions, and includes BodySmart software that captures fast and consistent images out to the edge of the image intensifier or flat-panel digital detector. Philips believes the feature can reduce the need for C-arm repositioning by 45%.
Zenition uses the same image processing algorithms found on Azurion, while MetalSmart software adjusts contrast and brightness to improve image quality when implants are present -- a useful feature for orthopedic procedures.
The C-arm is available in two different options for detector and image intensifiers, and users can subscribe to the company's Technology Maximizer program, which gives them access to hardware and software upgrades at a lower price than if they were purchased individually.
Zenition has received both U.S. Food and Drug Administration (FDA) and CE Mark clearance, with shipments scheduled for the U.S., Germany, Austria, and Switzerland in the first half of 2019. Philips is also planning to highlight Zenition at the upcoming ECR 2019.