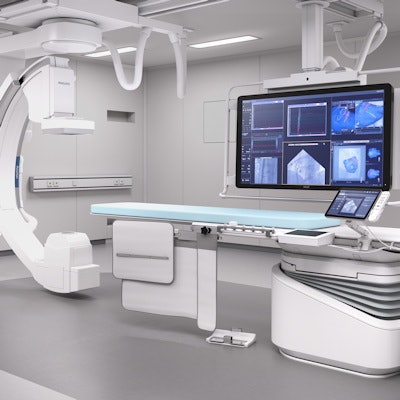 In what the company is calling its most significant new product launch in years, Philips Healthcare today debuted Azurion, a new platform for image-guided therapy. The platform includes hardware and software improvements designed to enable clinicians to more efficiently perform complex interventional procedures.
The use of minimally invasive surgical procedures has grown rapidly in recent years, not only in radiology but also in fields including cardiology, oncology, and vascular surgery. Minimally invasive technology has even given rise to a whole new hospital segment, the hybrid operating room (OR), an OR that includes imaging devices to enable surgeons to use either traditional or minimally invasive techniques.
Azurion is the product of a multiyear development effort at Philips to provide the interventional tools for this new environment, according to Bert van Meurs, business leader for image-guided therapy at the company. The company worked with leading clinicians around the world on the project.
On the hardware side, Azurion includes upgrades to the angiography technology found on the company's previous platform, the Allura and Allura Clarity systems. The design of the C-arm has been modernized, with new flat-panel digital detectors and a new version of the Philips MRC x-ray tube. Philips has also streamlined user controls, with more controls packed into displays so fewer monitors are necessary.
While hardware is important, it's in the software arena that Philips has made major investments in Azurion technology. The company has completely rewritten its interventional operating software, coming up with a new operating system called ConnectOS that enables better integration of real-time information from all the technologies that might be found in an interventional lab or hybrid OR. This is increasingly important as new modalities such as ultrasound and even CT are being used along with angiography x-ray, according to van Meurs.
"The interventional lab needs to support a more broad array of procedures, and more complex procedures," van Meurs told AuntMinnie.com. "It is no longer just about x-ray."
What's more, Philips has also taken a step forward in system design and operation, developing a tablet computer that interventional personnel can use at tableside to control the system. The tablet displays all the information relevant for a particular interventional procedure, and the interface can even be customized for the particular physician performing the procedure.
The new Azurion technologies work together to create what Philips calls parallel working, which enables teams of clinicians to complete different tasks simultaneously in the interventional room, saving time and improving quality of care. Azurion also employs what Philips calls procedure cards, which enable interventional personnel to preprogram routine tasks and user preferences. This reduces errors in patient preparation and can speed up procedures.
The company's advanced interventional applications previously found on the Allura systems will all be available with the system, including VesselNavigator for vascular surgery, EchoNavigator for interventional cardiology, EmboGuide for interventional oncology, and AneurysmFlow for interventional neuroradiology. Philips has also made radiation dose reduction a major priority in its design effort, developing techniques that enable Azurion's C-arm to pan and rotate without the need to use fluoroscopy.
Azurion will be available in both single-plane and biplane configurations, with the single-plane configuration available now and the biplane version shipping later this year. The system has been in use at about 20 clinical sites around the world, and Philips has regulatory clearances for the system in most global markets.
Philips will demonstrate Azurion at ECR 2017 next week in Vienna, as well as at other upcoming meetings such as those from the Society of Interventional Radiology in Washington, DC (March 4-9), and the American College of Cardiology, also in Washington, DC (March 17-19).
The company hopes that Azurion will help users adapt to a healthcare environment that is asking providers to do more with less.
"We see the need for a more economic value proposition," van Meurs said. "How can we do these procedures more efficiently?"