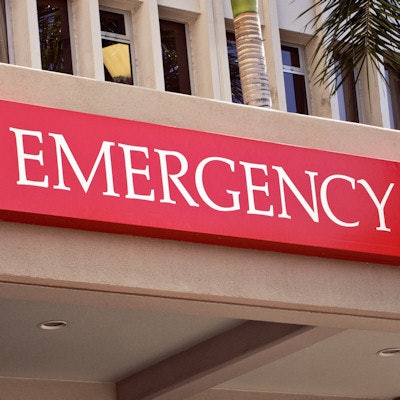 An extended ultrasound exam performed at the bedside in trauma settings can help guide appropriate treatment prior to the use of whole-body CT, according to research published December 7 in JAMA Network Open.
Researchers led by Dr. Fanny Planquart from Strasbourg University Hospitals in France found that combining an extended Focused Assessment with Sonography for Trauma (E-FAST) protocol with targeted chest and pelvic radiographs was effective in trauma patients.
"The combined use of all three diagnostic modalities appears necessary in unstable patients before whole-body CT," Planquart and colleagues wrote. "In the case of a negative workup, it appears safe to proceed with the patient to the whole-body CT."
E-FAST scans are used in managing trauma patients in the resuscitation room by providing invaluable data such as transcranial Doppler measurements for hemodynamics. When combined with chest and pelvic radiographs, E-FAST is effective for initial diagnostic workup when assessing trauma patients according to advanced trauma life support standards. This is preliminary in advance of whole-body CT, which is standard.
Although E-FAST is widely used, the researchers noted a lack of studies analyzing its clinical use, particularly in prospective multicenter studies.
Planquart and colleagues wanted to add to this by looking at how often the course of action in patient resuscitation was appropriate based on a resuscitation room workup. They did so by linking E-FAST with a systematic clinical assessment and radiographs before a whole-body CT exam.
The team conducted the study at six French level-one trauma centers between 2018 and 2019. They included 510 patients with an average age of 46 years, 394 of whom were male. Also, the median injury severity score was 24 (range, 17-34).
The researchers found that no immediate action was deemed necessary in 233 cases (45.7%) based on initial diagnostic workup. For cases where immediate action was required, the following therapeutic actions were taken before whole-body CT:
60 osmotherapies (11.8%)
52 pelvic binders (10.2%)
52 pelvic binders (10.2%)
41 chest drains (8%)
16 chest decompressions (3.1%)
6 emergency laparotomies (1.2%)
6 thoracotomies (1.2%).
2 pelvic angioembolizations (0.4%)
Also, norepinephrine was started in 108 cases (21.2%) to improve cerebral blood flow based on transcranial Doppler recordings.
An expert panel of two independent board-certified physicians with more than 10 years of experience observed the courses of action taken between cases. In case of disagreement, a third masked expert made the final decision.
The expert panel considered the course of action appropriate in 493 of 510 cases (96.7%). Among the 17 cases with inappropriate course of action, 13 were deemed to have deviated from existing guidelines and four resulted from incorrect E-FAST interpretations.
The study authors highlighted that this workup provides "critical" information to guide decisions and therapeutic actions.
"This comprehensive resuscitation room workup allows frequent safe abstention from action; immediate therapeutic intervention is infrequent," they added.
By integrating radiographs into the protocol, the researchers also suggested that this avoids overreliance on E-FAST.
"For instance, a chest radiograph ruling out a selective intubation in case of ambiguous left-sided lung sliding suggests the diagnosis of anterior left pneumothorax and facilitates the decision to drain the pleura," they wrote. "Concordantly, in unstable patients, trauma teams should systematically deploy all three modalities."