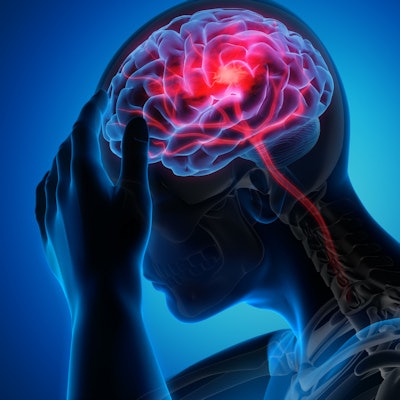 Stroke treatment costs increased 4.9% between 2012 and 2019, driven by endovascular thrombectomy (EVT) and, to a lesser extent, neuroimaging, according to research published November 7 in the Journal of the American College of Radiology.
A team of researchers led by Eric Christensen, PhD, of the Harvey L. Neiman Health Policy Institute, retrospectively reviewed Medicare data to examine the impact on hospital ischemic stroke treatment costs use of EVT for treatment, as well as neuroimaging -- CT angiography (CTA), CT perfusion (CTP), MRI, or MR angiography (MRA) -- for diagnosis and triage. They found that the median episode cost of treating ischemic stroke in the U.S. rose from $9,509 in 2012 to $9,973 in 2019. And EVT was the main driver.
However, "We found that CTA, CTP, and MRA were respectively the [eighth, twelfth, and fifteenth] most important cost drivers and that MRI was not significantly associated with cost > $20,000," the team wrote. "This is counter to previous studies that raised concerns about imaging costs, given that imaging was the fastest growing component of [ischemic stroke] hospital costs between 1999 and 2007."
After performing their retrospective analysis of Medicare 5% claims data from 75,525 consecutive index ischemic stroke hospitalizations for patients over the age of 65 across the study period, the researchers found that patients who undergo EVT have the greatest chance (odds ratio, 71.86) of high-cost hospitalization (more than $20,000). Those patients who undergo intravenous thrombolysis treatment also had a higher risk (odds ratio, 3.19) of a high-cost episode, the study showed.
After controlling for other factors, the researchers found that ischemic stroke patients who undergo neuroimaging were also more likely to have high-cost hospitalizations than those who don't. The odds ratios for high-cost episodes were 1.72 for CTA, 1.32 for CTP, and 1.26 for MRA.
Other factors associated with high-cost episodes included a length of stay of longer than four days (odds ratio, 4.34) and in-hospital mortality (odds ratio, 1.85).
"However, the increasing treatment cost trends have been partially offset by decreases in median length of stay and in-hospital mortality," the authors wrote.