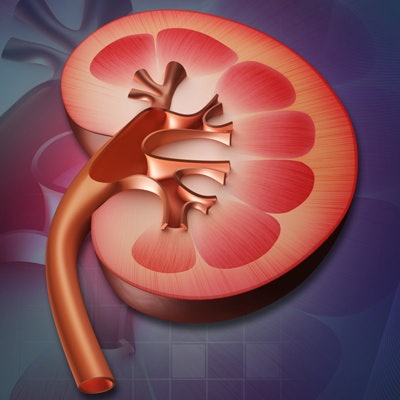 CT is the dominant imaging tool in the emergency department for diagnosing and evaluating kidney stones, but it may not be the best, according to a research letter published October 31 in JAMA Internal Medicine.
Ultrasound is probably the better choice, especially since there's little evidence that CT is superior for this indication, wrote a team led by Dr. Calyani Ganesan of Stanford University.
"Ultrasonography may be preferable to CT [because,] to our knowledge, no studies have documented the superiority of CT in improving urinary stone disease outcomes or in reducing morbidity," the group noted. "[And] although CT is highly sensitive for stone detection, the superior sensitivity of CT may not matter for smaller stones that pass without intervention."
Although the use of CT in the emergency department to diagnose kidney stones has increased, previous research has shown that an "ultrasound-first" strategy doesn't translate into more adverse events, missed high-risk diagnoses, or delays in treatment, the investigators wrote. And ultrasound has many benefits, such as the fact that using it at point-of-care may translate into shorter emergency department wait times and that the modality doesn't expose patients to radiation.
Ganesan and colleagues sought to explore imaging trends for suspected urinary stone disease via research that included data from the Nationwide Emergency Department Sample from between January 2012 and December 2018. The patient cohort consisted of 7.5 million unique emergency department visits for suspected kidney stones. The team compared emergency department visits during which patients did not have imaging to those during which patients underwent CT alone or ultrasound alone.
During the study time frame, the percentage of visits to the emergency department for suspected urinary stone disease that did not include any imaging fell. The percentage of visits during which patients underwent CT increased by more than 50%, while the use of ultrasound increased only slightly.
Imaging trends for suspected urinary stone disease in the emergency department, 2012 to 2018
Type of imaging
2012
2018
CT
48.6%
59.2%
Ultrasound
1.5%
2%
None
50.5%
39.1%
In any case, there's more work to be done to shift the proverbial needle among emergency department physicians when it comes to using ultrasound rather than CT for diagnosing kidney stones, according to the authors.
"Greater awareness of evidence and updated guidelines may increase adoption of an ultrasonography-first strategy," they concluded. "These changes may reduce radiation exposure to patients and limit heath care costs."