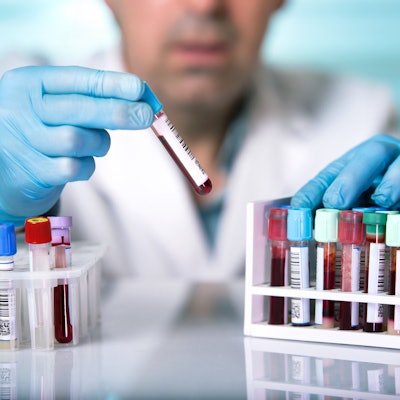 A relatively low-cost blood test was able to detect concussions in patients at trauma centers whose CT scans provided no indication of traumatic brain injury (TBI), researchers found in a new study published online August 23 in Lancet Neurology.
The group evaluated 450 patients who had presented to level I trauma centers for suspicion of TBI after a traffic accident or fall. All of the patients underwent an emergency CT scan that turned out to be normal.
Within 24 hours following their injury, the patients also received a blood test that used a handheld portable blood analyzer (i-Stat Alinity, Abbott) to measure levels of glial fibrillary acidic protein (GFAP), a biomarker associated with TBI. In 2018, the U.S. Food and Drug Administration (FDA) approved the use of a similar blood test to evaluate mild to moderate traumatic brain injury.
Follow-up MRI exams performed one to three weeks after the initial evaluation revealed that 27% of the patients were actually positive for TBI. Whereas CT revealed no instances of TBI in the patient cohort, there was a statistically significant association between a high concentration of GFAP on the blood test (414.4 pg/mL, on average) and a positive TBI finding on the follow-up MRI exam, the researchers found.
Further analysis revealed that the average GFAP measurement was approximately 31.6 times higher in the blood samples of patients with a TBI-positive MRI exam than in those with typical orthopedic injuries such as a fracture. The difference in GFAP measurements reached nearly 52-fold when comparing patients with a TBI-positive MRI scan and healthy individuals.
"Our earlier research has shown that even in the best trauma centers, patients with TBI are not getting the care they need," senior author Dr. Geoffrey Manley, PhD, said in a statement from the University of California, San Francisco. "Now we know that many of these patients with TBI are not even getting a diagnosis."
The blood test can help clinicians determine if patients' symptoms are primarily due to brain injury and treat them accordingly, without exposing patients to CT radiation, first author Dr. John Yue said.
"These blood-based biomarkers are the next step in the evolution of diagnosing and treating TBI," Manley added. "We are finding that not only are they more sensitive than CT in identifying TBI, but they may be more accurate than the current standard of MRI."