Second-generation iterative reconstruction software doesn't necessarily improve radiologists' ability to detect lung nodules compared to earlier versions. But the new software permits the same lesion detection power at greatly reduced CT radiation doses, according to a study presented at last month's RSNA 2012 meeting in Chicago.
Researchers from Japan found that dose reductions as high as 78% were possible from the already low dose settings used for first-generation iterative reconstruction, paving the way for ultralow-dose CT lung cancer screening. They compared a second-generation algorithm, model-based iterative reconstruction (MBIR, GE Healthcare), to the first-generation version (adaptive statistical iterative reconstruction, or ASIR), with impressive results.
"The first release we used was ASIR, which allows reduced radiation exposure with preserved diagnostic value," said Dr. Masaki Katsura from the University of Tokyo. "The recently installed MBIR provides further reduction in radiation dose without compromising image quality; however, few image studies have addressed the utility of MBIR to detect and localize lesions."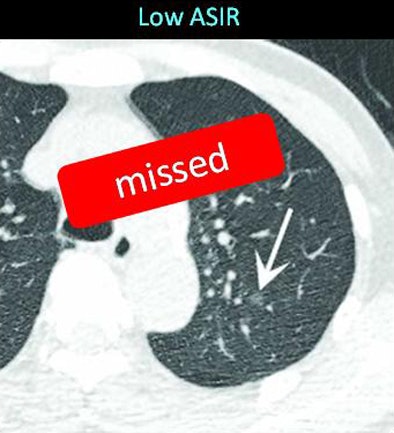 The same ground-glass opacity (arrow) is visible on both MBIR (below) and ASIR (above) reconstructions in two different scans of the same patient, but it is fainter with ASIR and was missed by two radiologists evaluating the image. Images courtesy of Dr. Masaki Katsura.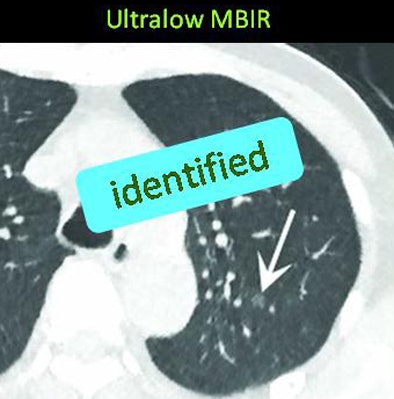 The current study aimed to evaluate whether MBIR enabled further dose reduction over ASIR while maintaining diagnostic performance for pulmonary nodule detection. The study team recruited patients scheduled for unenhanced chest CT. After 30 patients were excluded for lung conditions and 15 cases were used for training purposes, 59 chest CT cases (32 men, 27 women; mean age, 64.7 ± 13.4 years; mean body weight, 130 ± 31 lb) remained for analysis in the study.
Each patient underwent three chest CT scans on a 64-detector-row scanner (Discovery CT750 HD, GE) at 0.625-mm collimation. One scan used tube current modulation at a standard reference-dose protocol (fixed noise index, 31.5), the next used a low-dose protocol (fixed noise index, 70.44), and the third used ultralow-dose CT with a fixed current-time product of 5 mAs.
The low-dose protocol was meant to be equivalent to the dose used in the National Lung Screening Trial, which was approximately 1.5 mSv (New England Journal of Medicine, August 4, 2011, Vol. 365:5, pp. 395-409), Katsura said. That 2011 trial found a 20% mortality benefit from screening CT versus an unscreened control group in a large cohort of smokers and former smokers, spurring initiatives to develop CT lung cancer screening programs around the world.
MBIR protocol
Images were reconstructed using a 50% blend of ASIR and filtered back projection (FBP) for reference-dose and low-dose CT, while the MBIR algorithm was applied to ultralow-dose CT alone. The reference-dose images were used to establish ground truth against which the low-dose results were measured. Images were reconstructed and examined using both 2.5-mm and 0.625-mm slices.
Two experienced radiologists independently recorded the size, location, and pattern (ground-glass opacity [GGO], solid, or partly solid) of each nodule candidate larger than 4 mm by each of the three methods in reading sessions separated by a minimum of four weeks. They assigned each finding a confidence score on a four-point scale.
The reference standard established by consensus panel identified 84 noncalcified nodules with diameters ≥ 4 mm on reference-dose ASIR, including 18 GGO nodules, 55 solid nodules, and 11 part-solid nodules. The true-positive and false-positive results and confidence levels were then used to generate jackknife alternative free-response receiver operator characteristics (JAFROC) curves for analysis.
The results showed a 78% decrease in dose between the low-dose ASIR images and the ultralow-dose MBIR images.
Radiation dose of ASIR versus MBIR
| | | | |
| --- | --- | --- | --- |
| Dose measurement | Reference dose | Low-dose ASIR | Ultralow-dose MBIR |
| CTDIvol (mGy) | 8.29 | 1.77 | 0.39 |
| DLP (mGy-cm) | 307.7 | 66.0 | 14.5 |
| Effective dose (mSv) | 4.31 | 0.92 | 0.20 |
As for detection sensitivity, the JAFROC analysis for nodule detection showed no significant differences between low-dose ASIR and ultralow-dose MBIR regardless of nodule type.
Nodule detection of ASIR versus MBIR
| | | |
| --- | --- | --- |
| Nodule pattern | Ultralow-dose MBIR | Low-dose ASIR |
| Overall | 0.817 | 0.802 |
| GGO | 0.793 | 0.750 |
| Part solid | 0.885 | 0.794 |
| Solid | 0.832 | 0.827 |
The results indicate that MBIR has strong potential to achieve further dose reductions without affecting nodule detectability, Katsura said. Beyond lung cancer screening, the ultralow-dose technique may be feasible for general use in children or young patients. However, longitudinal studies will need to be conducted to confirm the validity of the technique, he added.
Katsura noted some study limitations; for example, patient body size (mean, 130 lb) was on the low side. The ultralow-dose technique may not be transferable to larger or obese patients, and it may vary with equipment from different vendors.
"MBIR enables a nearly 80% reduction in radiation dose in chest CT from low-dose to ultralow-dose levels without affecting nodule detectability," Katsura concluded.
Following the presentation, an audience member commented that the 50% ASIR level used for comparison purposes in the study may be a problematic place on the spectrum for that software; some have achieved better results at 20% to 30% or at 60% to 70% ASIR levels, the commenter said. She added that MBIR seems to be especially sensitive to motion, exaggerating a type of ringlike artifact that is commonly seen in imaging.