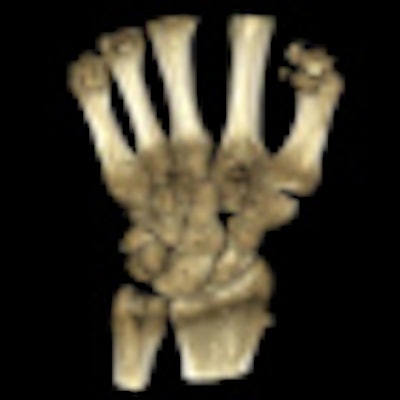 Finnish medical imaging vendor Planmed is banking on a compact design and a promised 10-fold reduction in radiation exposure to draw attention to Verity, a CT extremity scanner designed for bone and joint imaging to be launched at the RSNA show later this month.
RSNA attendees may have to look closely to find the diminutive scanner, which Planmed plans to roll out as a work in progress this month. Verity's 66-inch tall gantry is only 73 inches long and 30 inches wide, and it needs just 70 sq ft in a shielded room for imaging. It weighs about 700 lb and can be quickly propped up on wheels for storage.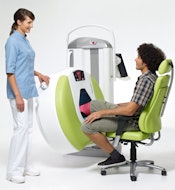 Planmed borrowed conebeam CT technology previously applied to dental imaging for its compact Verity extremity scanner. All images courtesy of Planmed.
"We can site the unit easily in any existing x-ray room," said Sami Tohka, PhD, product marketing manager at the firm's global headquarters in Helsinki.
Verity casts a small shadow by employing conebeam CT technology that's widely used in dental radiography, where Planmed plays an important role in equipment design and manufacturing, Tohka said in a telephone interview.
Verity acquires imaging data volumetrically in a single rotation, in contrast to multiple rotations during MDCT. A routine knee exam can be completed in about five minutes, with actual image acquisition consuming only about 20 seconds, he said. 3D volumetric reconstructions can be performed at the console or ported to a PACS for processing and analysis.
The x-ray tube and detector are enclosed in a gantry ring attached to a control console. A teardrop bore is designed specifically for imaging an arm or leg while the patient is seated in a chair or lying on a bed or gurney.
The technologist also controls gantry height and can adjust the scanner's angle from a full vertical (90°) to full horizontal (0°). Weight-bearing knee imaging can be performed while the patient is standing with one leg through the bore and the gantry is in a horizontal position. Fracture healing can be examined without removing the patient's cast.
Verity's gantry design also contributes an estimated 10-fold reduction in patient radiation dose compared to exposures during the same bone and joint procedures performed with whole-body MDCT, Tohka said. The typical effective dose on Varity ranges from 0.01 to 0.05 mSv, depending upon the procedure.
"With our scanner, you can position the rest of the body in specific way so the patient is not exposed to radiation [outside the x-ray beam]," he said. "It is not as easy to position the patient in a big CT."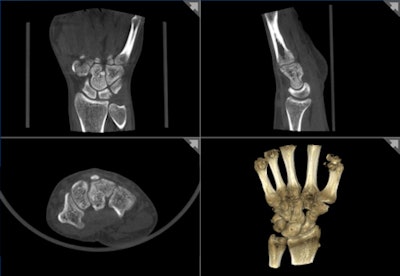 3D CT volume rendering acquired on Planmed's Verity extremity scanner aids orthopedic treatment monitoring and planning.
Users will also find that the Verity has advantages over whole-body and extremity MRI because of its focus on bone applications, Tohka said.
"With our device, we cannot reach the diagnostic level of MR for soft-tissue evaluations, but MRI is not as useful as CT for fracture diagnosis or fracture healing evaluations," he said.
Tohka envisions a role for Verity in radiology, orthopedics, sports medicine, and podiatry. Verity can visualize degenerative bone and joint diseases, such as osteoarthritis and various foot injuries and diseases.
Planmed will begin selling Verity in international markets after the RSNA conference. An application for 510(k) clearance with the U.S. Food and Drug Administration (FDA) in the U.S. is pending.
By James Brice
AuntMinnie.com contributing writer
November 11, 2010
Related Reading
iCAD debuts SecondLook with Planmed FFDM, December 31, 2008
Road to RSNA, Women's Imaging, Planmed, October 28, 2008
Road to RSNA, Women's Imaging, Planmed, October 26, 2007
Road to RSNA, Women's Imaging, Planmed, November 9, 2006
Copyright © 2010 AuntMinnie.com