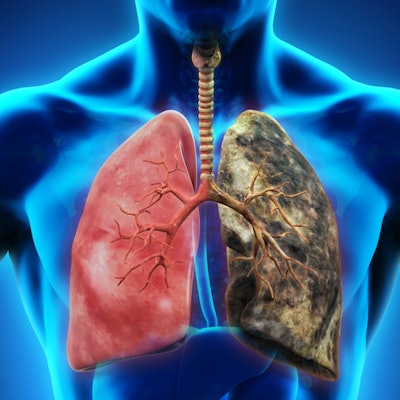 Radiographers in the U.K. can help fill gaps in cancer care due to the national shortage of consultant radiologists by rapidly reporting chest x-rays of patients with suspected lung cancer, according to a recent study.
Researchers led by Nick Woznitza, PhD, of University College London Hospitals assessed whether immediate reporting by radiographers reduced the time to diagnosis of lung cancer. They found faster is better and that the approach did not compromise the accuracy of reports.
"Immediate reporting of CXRs from primary care reduces time to diagnosis of lung cancer by half, likely due to rapid progress to CT," the group wrote (in press, Thorax).
To speed the path to diagnosis of lung cancer, the National Health Service (NHS) established the National Optimal Lung Cancer Pathway (NOLCP) in 2017. One recommendation is that chest x-rays be reported within 24 hours of acquisition so that, if indicated, a CT scan can be completed either the same day or within 72 hours.
However, the impact of more rapid reporting on the whole pathway is unknown, according to the researchers.
To explore the issue, Woznitza and colleagues conducted a study at an acute district general hospital in London between June 21, 2017, and August 4, 2018. A total of 8,682 patient x-rays were performed, with 4,096 (47.2%) in the immediate radiographer reporting arm and 4,586 (52.8%) in the standard reporting arm (within 24 hours). A total of 49 lung cancers were diagnosed, 27 (55.1%) in the immediate arm.
Time to diagnosis of lung cancer for patients in the immediate arm was a median of 21.5 days compared with 30 days in the routine chest x-ray arm (p = 0.012). For patients with a suspicious chest x-ray, diagnosis of lung cancer was achieved in a median of 18 days in the immediate reporting arm compared with 32 days in the routine arm (p = 0.0375).
In addition, discordant radiographer and local radiologist cases were reviewed by thoracic radiologists. In 1,361 (16.5%) cases with discordance, the reviewers were equally likely to agree with local radiologist and radiographer reports, the group added.
Ultimately, the study supports the NOLCP's goal of improving logistics by reporting chest x-rays before patients leave the clinic. Given the national shortage of radiologists, radiographer reporting is a way to achieve this, the authors suggest.
"It is thus recommended that this be considered by clinical teams to provide patients with faster diagnosis," the groups concluded.