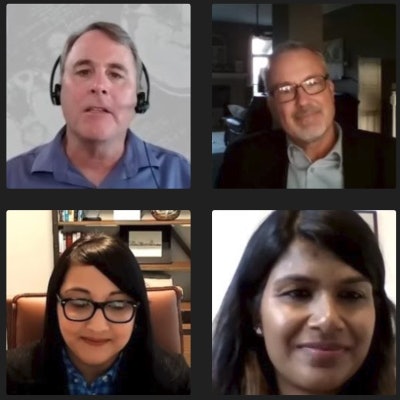 How healthy is the job market for radiologists? AuntMinnie.com's recent SalaryScan survey indicates that radiologists continue to enjoy strong salary growth. But there are always challenges on the horizon, including cuts to reimbursement, new technologies, turf battles with other physicians, and more.
This June 28 webinar featured perspectives from three key opinion leaders on the health of the job market for radiologists, offering career planning tips and advice ranging from academic radiology to traditional private-practice groups to national radiology groups. Our guests included the following:
Dr. Amy Patel, medical director of the Breast Care Center at Liberty Hospital in Liberty, MO, and assistant professor of radiology at the University of Missouri-Kansas City School of Medicine. She is also the outgoing immediate past chair of the American College of Radiology (ACR) Young and Early Career Professional Section (YPS), as well as chair of the ACR's Radiology Advocacy Network and president-elect of the American Association for Women in Radiology.
Daniel Corbett, founder and chief of business development at Radiology Business Solutions, a radiology business consulting and management firm. He has 30 years of experience in the field of physician staffing and consulting and has written and spoken on topics including radiology business issues, recruiting and retention, practice compensation formulas, practice models, and other areas.
Dr. Arthy Saravanan, associate chief medical officer for recruitment at Radiology Partners, a national radiology group. She is a breast imaging radiologist for ARA Diagnostic Imaging, serving the Austin, Texas, region, and also is chair of ARA's marketing committee and chief of breast imaging at ARA. Additionally, she serves as assistant professor for the department of diagnostic medicine at Dell Seton Medical Center at the University of Texas in Austin.
Click on the link below to view: