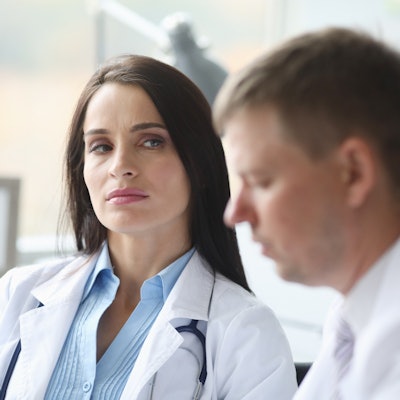 A group of radiation oncologists has taken issue with Hollywood via an analysis that shows only 18% of physician roles in U.S. movies over the last 30 years were filled by women, according to a research letter published August 28 in JAMA Internal Medicine.
"Addressing the cinematic representation of women in the physician role may be instrumental in reversing entrenched stereotypes," wrote lead author Bismarck Odei, MD, of the University of Utah, and a group of U.S. colleagues.
Women have long been underrepresented in professional roles in movies, the authors wrote. Due to this raising concerns about the perpetuation of stereotypes in movies, Odei and colleagues performed a cross-sectional study that examined the portrayal of women as physicians.
In 1,226 movies with 2,295 physician characters, 426 (18.6%) were women and 1,869 (81.4%) men, according to the findings. While the percentage of women physician characters increased significantly per decade between 1990 and 2020 (16.6%, in 2000, 18.6% in 2010, and 20.8% in 2020), most movies depicted physicians exclusively as men (71.5%).
Meanwhile, the number of women who are medical professionals in the U.S. has grown considerably, with women now comprising one-half of all medical students and steadily higher proportions of physicians (18.8% in 1992, 30.4% in 2010, and 36.3% in 2019), the authors wrote.
"Further research to evaluate the representation of members of specific racial and ethnic minority groups and individuals within the spectrum of diverse sexual orientation and gender identities would also be valuable," the group concluded.
The full research letter is available here.