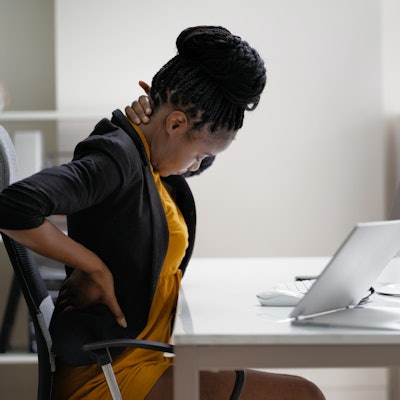 With the shift to working from home as a result of the COVID-19 pandemic, radiologists and radiology staff have had to adjust very quickly to home working environments that feature dining room tables and recliners -- environments that may not offer the most ergonomically friendly arrangements.
But making sure your staff is working in an ergonomically sound environment can be challenging in an era of social distancing. A group from Children's Hospital of Philadelphia addressed that challenge with a pilot program of virtual ergonomic consults for full-time radiology staff who were assigned to work from home because of the pandemic.
Researchers were able to analyze how radiologists and radiology staff had set up their home work environments. They found that many participants reported moderate disruptions, with a majority reporting neck discomfort and many others experiencing discomfort of the upper and lower back.
Remote consultation
As part of the project, a group led by Ethan Larsen, PhD, human factors engineer at Children's Hospital of Philadelphia, deployed an ongoing remote workstation ergonomics consultation program at the university, aimed at improving the ergonomics of at-home workstations.
Participants in the program, who were radiologists and nonradiologists, were recruited through an electronic survey that Larsen and his team conducted. The participants uploaded pictures of their at-home workstations that would make the desk set-up visible, and they were also required to complete the Cornell Musculoskeletal Discomfort Questionnaire (CMDQ).
An ergonomics consultation was scheduled after the program team reviewed photos and questionnaire responses. The team then conducted real-time consultations with participants to assist in optimizing ergonomics through adjusting the configuration of the workstation, making recommendations based on self-identified pain and photos of the working environment and observations of posture.
"Every consult that we did, and every consult that we continue to do, is unique to that individual and to their situation," Larsen said in an interview, noting a that total of 10 consultations were initially performed and formed the basis for a paper that was published September 27, 2021, in the Journal of the American College of Radiology.
Larsen and his team noted in the paper that usability studies have observed and validated that there are diminishing returns on user testing beyond 10 participants and that it has been estimated that up to 90% of issues with respect to ergonomics needs will be found by evaluating 10 or fewer participants.
Through the feedback and live assessments, Larsen found that six of 10 participants identified the neck as most affected by discomfort and four of 10 reported lower and upper back discomfort. Two participants noted they experience symptoms daily. Other body sites of discomfort included shoulders, hip, thighs, right knee, and left foot.
"No one reported pain that substantially interfered with their work, but there were moderate disruptions," Larsen said.
The recommendations from Larsen and his team to modify home workstations included new chairs, mice, monitors, and/or keyboards; adjustments of chairs, monitors, and desk heights; and adjustments to the proximity of monitors. They noted the chair was too low for the desk for five participants and the chair was too high for the user in three instances, factors that could contribute to pain at different sites of the body.
"The most common observations made were that the participant's deskwork top was too high relative to their chair and that their monitors (or laptop) were too low," he said. "Both have potential to impact that neck and back pain observed. The recommendations were to readjust the chair relative to the desk and add a footstool (or pile of books), and similarly elevating monitors (or laptops in combination with an external keyboard and mouse) to an appropriate height, either with their existing adjustable stands or boxes and books that are available to the participant."
There are more barriers to virtual ergonomic consultations and implementing recommendations from such consultations, as opposed to live consultations for in-hospital work arrangements, according to Larsen.
"I think the biggest obstacle for implementation was the combination of the virtual consult and available time," Larsen said. "When doing an in-person consult in the hospital, going and grabbing a book to use as a footrest and checking in on someone an hour or two later, they notice a difference. Virtually counting on someone to take the time to set themselves up under work performance pressure makes it more challenging."
Resistance to ergonomics assessments or a perception of the lack of utility of ergonomic assessments, conducted both in hospital and for work-at-home situations, has been a challenge with which Larsen and his team have had to contend.
Larsen noted that each time he walks into his hospital's reading room, which has adjustable furniture, that he finds at least three radiologists who could benefit from a consultation on how to adjust their furniture.
"When you engage in a conversation with them, they'll say, 'Oh no there's no pain, I don't have any pain. I'm fine. I'm fine.' If you press them a little bit, inevitably there's some back pain, there's some hip pain, there are things that can be addressed by proper ergonomics, and they definitely would benefit from refreshers," Larsen said. "You sometimes need a second set of eyes to help you get it right."
Participants in the virtual ergonomics assessments were not asked if musculoskeletal disorders (MSDs) and symptoms of MSDs affected their work performance, but Larsen's suspicion is that work performance is likely suboptimal because of work-related MSDs and associated symptoms.
"I would likely say it's definitely likely that MSDs and symptoms of MSDs contribute to decreases in performance, at the very least due to possible sick days and missed time for doctor's visits," Larsen said. "As the discomforts mount, we start to make adaptations that are deviations from our normal routines, leading to habitual patterns being disrupted. It was not something we tried to measure, but I suspect it's likely."
Apart from adjustments to configuration of workstations or adjusting the height of chairs or elevation of feet, Larsen and his team suggested avoiding prolonged periods at a workstation without any interruptions.
"In all of our consult sessions, we had recommendations including hourly breaks to get up from the workstation and walk around, and spending a few minutes every hour giving your eyes a break to look at distant objects instead of screens," he said. "Those kinds of breaks can help alleviate existing discomfort and prevent new symptoms from developing."
Larsen and co-investigators noted in their paper that a hybrid model of work is taking shape with the transition out of the COVID-19 pandemic: Some radiologists and radiology staff will work in hospital, while others will continue to work from home, underlining the need for ergonomic assessments both for in-hospital and remote workers.
Hospitals that are considering adopting virtual ergonomics consult programs should give thought to bringing in human factors engineers who can identify how workstations, both in hospital and at home, can be improved from an ergonomics standpoint, according to Larsen.