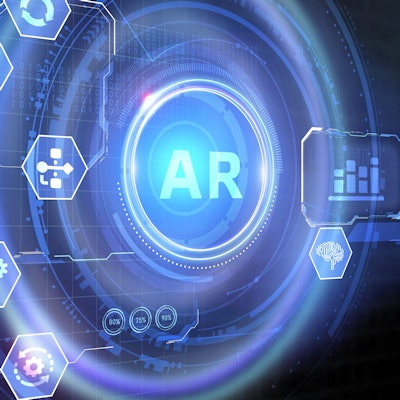 Augmented-reality (AR) training helps improve ultrasound performance for pediatric critical care, according to research published August 11 in Ultrasound in Medicine & Biology.
A team led by Michele Saruwatari, MD, from Children's National Hospital in Washington, DC, found that a novel augmented reality ultrasound application improved task completion time and head positioning by users who perform ultrasound-guided vascular access.
"It [application] demonstrates equivalent procedural efficiency and accuracy, with favorable usability, ergonomics and user independence when compared with traditional ultrasound techniques," Saruwatari and colleagues wrote.
Augmented (AR) and virtual-reality (VR) devices have shown success in aiding with medical training for vascular access procedures. AR is distinct from VR in that it incorporates virtual elements onto a user's real-world surroundings instead of a user participating in a completely virtual environment.
Saruwatari and colleagues previously reported the success of HoloUS, a novel AR application that displays live images from a portable ultrasound machine directly into the user's field of view. They found that HoloUS "can be feasibly used in ultrasound-guided procedures."
For their most recent follow-up study, the researchers wanted to test the performance and feasibility of an upgraded version of HoloUS that uses the HoloLens 2 (Microsoft) in a single-center, randomized user study. The study participants used HoloLens to perform a venipuncture and aspiration task series on a three-vessel branched vascular phantom. Participants included 22 users with experience and 12 with no experience in performing ultrasound-guided vascular access. They completed a venipuncture and aspiration task four times.
The researchers found that overall task completion time improved significantly with the use of HoloUS at 11.5 seconds compared with 18.5 seconds without it (p = 0.04). They also found that using HoloUS significantly lowered the number of head adjustments at one adjustment compared with three without the application (p < 0.0001).
"This effect is even more pronounced with repeated use of this augmented reality application," the researchers wrote.
The team also reported no significant differences in other measured outcomes. These include the number of attempts, needle redirections, or needle visualization rate between any two task pairs. Saruwatari et al also found no differences in task completion times when comparing users who used conventional ultrasound first with those who started with HoloUS. Finally, they found no significant correlation between measures of frustration and physical workload, frustration and temporal workload, frustration and performance workload or physical and performance workload.
The study authors wrote that going past these results, using a virtual screen with this technology has the advantage of eliminating the need for a bulky ultrasound machine at the bedside. They added that it can also give proceduralists greater autonomy in procedures for sick and vulnerable child patients.
"Though this work uses a pre-clinical phantom-based model, we received enthusiastic support from the diverse clinician-participants and aim for future investigation of HoloUS for use in procedures across multiple medical specialties, including anesthesia, intensive care, interventional radiology and surgery, with the ultimate goal of bringing this technology to the bedside," the authors wrote.
The full study can be found here.