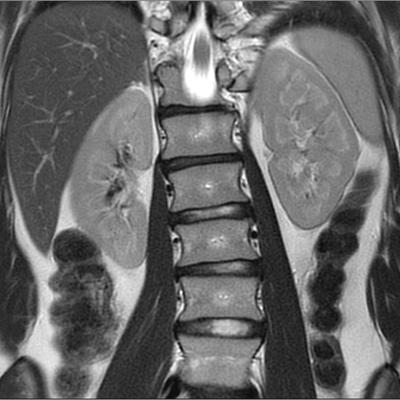 Clinical MRI was introduced more than 40 years ago, but judging on the product enhancements on display in the technical exhibition at ECR 2019, the pace of change shows no sign of slowing down. The modality continues to evolve with sharper image quality, less time-consuming scans, and expanding value for a variety of applications. The emphasis is on improving diagnoses, patient outcomes, and comfort, while simultaneously providing greater productivity for imaging facilities.
With the addition of the 3.0-tesla Lumina and 1.5-tesla Altea to the Magnetom range, Siemens Healthineers is seeking to create more affordable price points for scanners with 70-cm magnet bores. Both systems also follow the company's Bio-Matrix concept involving the use of sensors and tuners to automatically adapt protocols to patient anatomy. Sensors embedded in the table, for example, track a patient's breathing, which helps clinicians select an optimal, personalized scan protocol.
The two systems also feature the Turbo Suite MR acceleration package to maximize workflow by reducing unwanted variation in scans between patients, and to enhance patient comfort, a new in-bore patient entertainment system, Innovision, enables clinicians to show customized video content to patients.
"With rising patient volumes in the face of falling reimbursement, there is a clear need for greater efficiency and productivity. At the same time, the quality of exam results should not diminish," said Jan Chudzik, head of global product marketing for MRI at Siemens Healthineers, noting that there was a 20% reimbursement cut in Switzerland for imaging from 1 January 2018 and a 30% drop in reimbursement for neuro MRI over the past five years in the U.S., for example.
At its ECR booth, the vendor also has details of the BioMatrix version of its Magnetom Amira, a 60-cm bore MRI scanner available in some international markets. The company also has a blanket Contour coil available with 24 or 48 elements, as well as two new BioMatrix sensors for its Magnetom Vida and Sola MRI systems. The Kinetic sensor is integrated into the magnet bore for motion correction; the Beat sensor is designed to capture cardiac signals. The Beat sensor is available as an option on the Lumina and Altea scanners.
Hitachi Medical Systems Europe is highlighting the 1.5-tesla Echelon Smart Plus and the 1.2-tesla Oasis at ECR 2019. The Echelon Smart Plus MRI offers a variety of features, including SmartQuality for enhanced clinical images. Other advanced applications include SmartSpeed technology, a 1.5-tesla superconducting system for reduced examination time; SmartComfort for a quieter patient experience; SmartEco to reduce electricity consumption and decrease operating costs; and SmartSpace to provide the smallest possible installation footprint. The scanner's 50-cm field-of-view is suited for a number of clinical applications that include musculoskeletal, brain C-spine, L-spine, whole spine, and abdominal imaging.
Hitachi is promoting its Oasis MRI scanner. It is fitted with a 1.2-tesla vertical-field superconductive magnet for high signal-to-noise ratio. The device's open architecture has a two-pillar asymmetric design with full panoramic view for patients who deal with claustrophobia and anxiety. The Oasis' fully motorized, extra-wide, 82-cm patient table with lateral tabletop movement can accommodate larger patients. Meanwhile, SoftSound technology helps to silence gradients and scanner noise, while fast imaging with RAPID parallel imaging and Zenith coils support scanning for every patient.
Philips Healthcare's spotlight shines on its 1.5-tesla Ingenia Ambition MRI scanner, which the company launched in late 2018. Most notably, Ingenia Ambition features a fully sealed magnet for helium-free operations. BlueSeal is designed to greatly reduce the amount of liquid helium needed to cool the magnet to less than 0.5% of conventional scanner requirements. The fully sealed magnet does not require a vent pipe and is approximately 900 kg lighter than its predecessor, which in turn significantly reduces the siting challenges of conventional magnets and lowers construction costs, the company noted in a statement.
The Easy Switch feature allows for quick deactivation of the BlueSeal magnetic field if something should be stuck in the bore. Once the problem is resolved, an in-house or Philips technician can begin an automated start to bring the magnet back online. In addition, the Ingenia Ambition's SmartExam analytics allows for automatic planning, scanning, and processing, which is designed a single operator to manage the full MRI scan from the patient's side with the touch of one button.
GE Healthcare continues to refine and develop the adaptive imaging receive (AIR) coil technology. The flexible, lightweight components can be incorporated into blankets that conveniently wrap more closely around regions of interest to enhance image quality, and the coils are much less of a burden to frail patients and neonates, according to the vendor.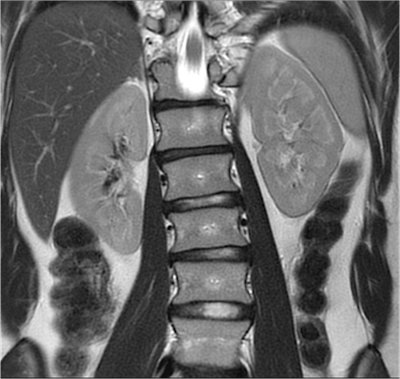 GE now offers a 30-channel AIR anterior array (AA) coil, a 21-channel multipurpose (MP) large coil, and a 20-channel MP medium coil. The AIR AA coils are designed to conform to the human body, while the AIR MP coils allow for better positioning for musculoskeletal MRI scans of broken joints, long bones, extremities in casts, or other anatomies that do not match the configurations of standard coils. The coils will be available on the firm's 1.5- and 3-tesla MRI machines.
Esaote is promoting the O-scan premium MRI scanner for extremity imaging. Like the company's other MRI products, the 0.31-tesla O-scan has an open, compact-magnet design and an ergonomic patient chair to help avoid issues with claustrophobia. The setup also allows for easier access to all patient joints and extremities. No radiofrequency shielding is required, and the device can operate from a standard wall plug, stated the manufacturer.
Among its available features are advanced applications, such as eXP metallic artifact reduction (MAR) and high-resolution 3D image acquisition, along with dedicated dual-phased array coils. Dynamic MRI can detect abnormalities that are difficult or impossible to find on standard MRI scanners. The application can be particularly beneficial in sports imaging.
Finally, Canon Medical Systems is again highlighting the Vantage Orian, a wide-bore, 1.5-tesla scanner that the company first introduced at ECR 2018. To develop Orian, the vendor redesigned its MRI digital architecture by moving the electronics in the scanner gantry, enabling the use of an independent analogue-to-digital converter for each of the system's 128 channels. The machine also features a dockable, removable table, while supporting Pianissimo noise reduction technology and MR Theatre patient entertainment system found on other Canon magnets, according to the company.
Originally published in ECR Today on 28 February 2019.
Copyright © 2019 European Society of Radiology