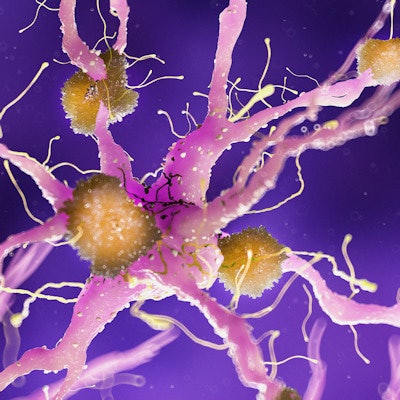 The Society of Nuclear Medicine and Molecular Imagine (SNMMI) has called for clarity over whether amyloid PET scans will be covered for potential candidates for the new Alzheimer's disease drug Leqembi (lecanemab).
The SNMMI noted that although the drug has been approved and the U.S. Centers for Medicare and Medicade Services (CMS) has said it will cover the treatment, no guidance has been provided on whether amyloid PET scans used to diagnose and monitor patients will also be covered.
"Amyloid PET scans are an essential tool that will allow physicians to identify appropriate candidates for Leqembi," said SNMMI President Helen Nadel, MD, in a statement from the society. "PET scans should also be performed on patients after they begin taking lecanemab to ensure that the amount of amyloid plaque has decreased."
In its approval announcement for Leqembi, the U.S. Food and Drug Administration said that pretreatment exams will be required to verify amyloid plaque brain deposits in potential patients before they are prescribed the treatment, yet it provided no guidance on the specific test to be used. In clinical studies, amyloid PET scans have been the gold standard for detecting amyloid plaques in the brain, the SNMMI noted.
However, CMS currently only covers one amyloid PET scan per patient per lifetime, the SNMMI said. What's more, reimbursement is below the cost of the radiopharmaceutical used in the exam.
The society also urged Congress to pass the FIND Act, recently introduced bipartisan legislation intended to improve access to radiopharmaceuticals for Medicare beneficiaries.