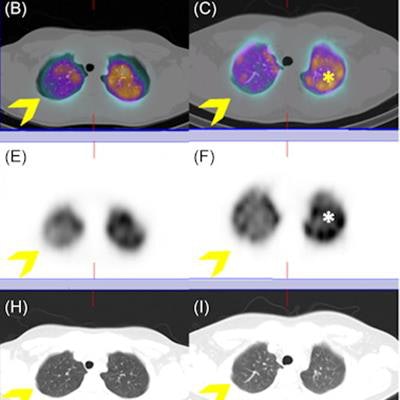 SPECT/CT imaging has revealed that some children may develop lung perfusion defects after COVID-19 infections, according to a study published April 25 in Pediatric Pulmonology.
The study is the first use of technitium-99m (Tc-99m) SPECT/CT in a group of children with long COVID-19 and highlights the technique's potential for clinical use in these cases, wrote first authors Daniele Pizzuto, PhD, and Danilo Buonsenso, PhD, of Gemelli University Hospital in Rome, and colleagues.
"Although these data are preliminary and require further investigations, they add another piece to the difficult-to-understand puzzle of [long COVID]," the group wrote.
Preliminary studies in adults have shown abnormal lung perfusion in patients with long COVID-19, which has initiated larger studies, but to date the evidence is still scarce, and this is particularly the case in children, the researchers wrote. To address the knowledge gap, they assessed lung perfusion in children with long COVID-19 using Tc-99m macroaggregated albumin (MAA) SPECT/CT, an established tool for detecting lung perfusion defects but one not typically used in pediatric patients.
The group gathered data on 14 children (mean age, 12.6 years old) who underwent these scans as part of a separate ongoing study of children with SARS-CoV-2 infections. They included children with a confirmed diagnosis who were assessed at least 24 weeks after the first positive test.
According to the findings, six out of the 14 (42.8%) children showed perfusion defects on Tc-99m MAA-SPECT/CT scans, without morphological alterations on coregistered CT.
Five of these six children were previously affected by a mild acute infection while one was asymptomatic during SARS-CoV-2 infection, the authors noted. During the follow-up, however, persisting symptoms (e.g., headache and shortness of breath during exercise) were detected in all six.
In addition, among children with abnormal finding on Tc-99m MAA-SPECT/CT, two were probably infected with wild virus, two with alpha, one with delta, and one with omicron, the team reported.
"This is the largest study showing details of lung perfusion assessed by Tc-99m MAA-SPECT/CT in a cohort of previously healthy children that developed [long COVID-19] after SARS-CoV-2 infection. Overall, we provided evidence of abnormal lung perfusion in five children," the researchers wrote.
Larger cohort studies are needed to confirm these preliminary results and to provide a better understanding of which children may deserve the test and how to manage those with lung perfusion defects, they concluded.