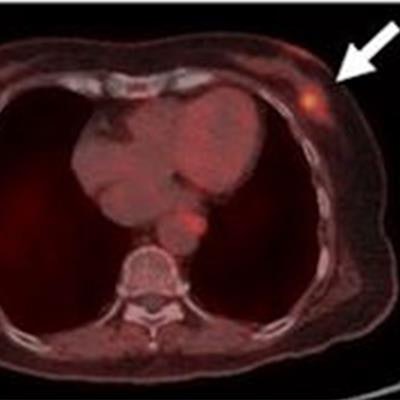 PET/CT imaging with a boron-based radiotracer is superior to that with standard F-18 FDG for differentiating malignant from benign lesions, according to a study published December 5 in Annals of Nuclear Medicine.
A group led by Dr. Kayako Isohashi, PhD, of Osaka Medical and Pharmaceutical University, compared PET/CT imaging using a radiotracer designed to reveal boron-10 (B-10) uptake (F-18 FBPA) in tumors compared with standard F-18 FDG-PET/CT imaging. F-18 FBPA-PET/CT showed superior diagnostic ability over F-18 FDG-PET/CT for differentiating malignant tumors from benign lesions, the authors found.
"F-18 FBPA-PET/CT diagnosis provides clues to differentiate malignancy from inflammatory lesions, including changes after radiotherapy, and may reduce the need for invasive biopsy," they wrote.
F-18 FBPA-PET was developed in the late 1990s in Japan to assess tumor uptake of boron-10 during boron neutron capture therapy (BNCT), a type of radiation therapy. BNCT has been covered for head and neck cancer by health insurance in Japan since June 2020, with the number of diseases insured for treatment with BNCT likely to increase, the authors explained.
Standard F-18 FDG-PET/CT imaging in cancer patients is limited by the uptake of the radiotracer in benign tumors, or at sites of inflammation in the body, which can lead to false positives and the need for invasive biopsies for definitive diagnoses, the team noted. They hypothesized that the use of the F-18 FBPA tracer may be more effective, and ultimately reduce the number of false-positive scans and biopsies required.
Isohashi and colleagues enrolled 82 patients referred by treating oncologists who faced diagnostic challenges that could not be solved with standard approaches. Patients underwent both F-18 FDG- and F-18 FBPA-PET/CT between March 2020 and March 2022, with tumor uptake of FDG or FBPA measured using maximum standardized uptake values (SUVmax).
Diagnosis was confirmed by cytopathology or histopathological findings after biopsy or surgery, with results showing patients had 77 lesions with 24 types of malignant tumors and 11 benign lesions. Area under the curve (AUC) values for each approach were calculated for each PET image.
The SUVmax for F-18 FDG-PET/CT did not differ significantly for malignant tumors and benign lesions (p = 0.62), whereas the SUVmax for F-18 FBPA- PET/CT was significantly higher for malignant tumors (p < 0.001), the researchers reported.
In addition, their analysis revealed significantly different AUC values for differentiating between malignant and benign tumors depending on the radiotracer, with F-18 FDG PET/CT achieving an AUC of 0.547 and F-18 FBPA-PET/CT achieving an AUC of 0.834 (p < 0.001).
"The results of this study suggest that F-18 FBPA PET/CT diagnosis may reduce false-positive F-18 FDG PET/CT diagnoses," Isohashi and colleagues concluded.