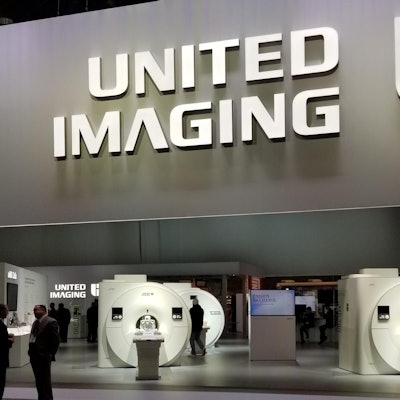 Shanghai-based United Imaging Healthcare (UIH) has officially put down stakes in the U.S. UIH Solutions made its debut at RSNA 2018 with a multimodality line of scanners, including a unique total-body PET scanner.
The company brings to this side of the globe its own line of MRI, CT, PET, digital radiography, and radiation therapy products and the promise of more to come to compete against multimodality rivals such as GE Healthcare, Siemens Healthineers, Philips Healthcare, and Canon Medical Systems USA.
"We are not a niche player. We are building an organization for scale," said Jeffrey Bundy, PhD, CEO of UIH Solutions. "We are not only ramping up an organization, we are investing in the U.S. market."
Shanghai roots
UIH was founded in 2011, and it has grown to include more than 3,200 employees -- half of whom are involved in R&D -- with operations in more than 20 countries. Over the years, the company has completed some 5,000 installations in more than 2,400 hospitals worldwide. UIH also has received clearance from the U.S. Food and Drug Administration (FDA) for more than a dozen devices.
"We have been watching [the U.S. market] for a while and waiting for the right moment to enter," Bundy said. "We wanted to come in with force and a portfolio with 14 FDA-cleared devices. A year ago, we did not have any, so the company has been moving very rapidly this year."
Bundy joined UIH as CEO of its U.S. operations last April, after serving in various executive positions at Siemens, including in its ultrasound business. Last month, UIH hired Hermann Requardt, PhD, as a senior scientific advisor to provide strategic guidance on business, technology, and R&D. Requardt served as CEO of Siemens Healthcare from 2009 to 2015.
So what makes the timing right for UIH to enter the U.S. market? A change in the way imaging centers view the purchase of certain modalities, Bundy believes.
"It used to be that specifications were everything; slices in a CT scanner, gradients and slew rates for an MRI scanner," he said. "[Today] it is much more about how they expand their practices and how they provide more access to the patients to more high-end technology."
Houston, we have a headquarters
UIH has made Houston its U.S. headquarters with a 100,000-sq-ft, state-of-the-art production facility for manufacturing, a customer service and training center, a showroom for its products, and marketing services. The goal is to produce multiple product lines, including CT, MRI, and digital radiography, at this location by the end of 2019.
"We are building our U.S. factory at a fairly fast pace," said James Xia, senior vice president at UIH. "We are expecting by the middle of next year that we will have the factory ready. So, in the second half of next year, we will start to ramp up production in the U.S. We want to make sure that the proximity to our customers in the U.S. will serve our customers better."
The production plan will proceed "piece by piece, with different system priorities over time," Bundy added. "We plan [Houston] to be a primary shipping and manufacturing location, not just for the U.S., but broader than that as well."
UIH Solutions recently completed its first U.S. installation with the placement of a uMR 570 1.5-tesla MRI scanner in Beaumont, TX. The system, which features a 70-cm bore, went into clinical operation in late November.
"We are also hiring service engineers ahead of when we need them because we know one of the most important things is to build a service organization in the U.S.," Xia said.
Research collaborations
UIH Solutions also has facilities in three other locations. Its staff in Cleveland is focused on advancing CT technology, while the R&D personnel in Boston will develop radiology-related artificial intelligence. The company has its radiation therapy business in Concord, CA.
"We also would very much like to have collaborations with top U.S. clinical institutes," Xia said. "It will help bring the innovation further."
The first step toward that goal was accomplished in January 2017 when UIH Solutions was selected to collaborate with the University of California, Davis (UCD) to create the Explorer total-body PET scanner. Early results are promising: The researchers, led by Simon Cherry, PhD, a professor of biomedical engineering at UCD, and Ramsey Badawi, PhD, a professor of radiology, unveiled the first images from the device in November.
"It is not easy to make this a reality because the algorithms and the physics are totally new," Xia said.
For the immediate future, UIH Solutions' strategy is straightforward: Cultivate contacts in the U.S. with an eye toward market expansion.
"We are not doing anything temporarily; we're not putting our toes in the water," Bundy said. "We are investing in every part of our company ... whether it be infrastructure, IT, software support, our call center, or our manufacturing processes."