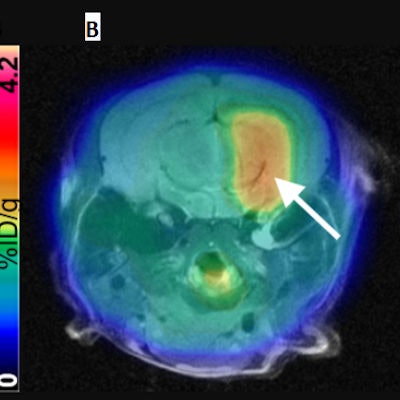 PHILADELPHIA - A new molecular imaging method can monitor the level and location of gene expression everywhere in the brain, enabling early assessment of gene therapy for brain disease, according to findings presented on Sunday at the Society of Nuclear Medicine and Molecular Imaging (SNMMI) conference.
Researchers from Stanford University have developed F-18 DASA-23, a novel radiotracer, or reporter probe, that can cross the blood-brain barrier and target the pyruvate kinase M2 (PKM2) protein in the central nervous system (CNS) -- with minimal endogenous expression in the brain. The PET technique addresses the challenge of finding a reporter gene and imaging agent that can be used in all areas of the brain with a high signal-to-background ratio, according to first author Thomas Haywood, PhD.
"Having a reporter gene/reporter probe system that allows monitoring of all areas of the brain opens the door to more accurate and less-invasive imaging of the brain and of gene therapies used to tackle diseases of the brain," Haywood said in a statement.
After validating the utility of PKM2 as a PET reporter gene in cell culture studies, the researchers tested their system on mice that were infected with the adeno-associated virus (AAV). They imaged the mice with small-animal SPECT/CT of F-18 DASA-23 over a period of two months to track the increase in PKM2 gene expression over time. Confirmed by F-18 DASA-23 uptake studies and mRNA analysis, the results showed good correlation (r2 = 0.69, p < 0.05) between PKM2 and the radiotracer, according to the researchers. What's more, additional analysis showed a significant increase in PKM2 expression in infected mice compared with controls.
PKM2 has the potential to be further developed into a PET reporter gene system for the imaging of gene therapy in the CNS, the researchers concluded. In addition to testing in mice, the radiotracer has also recently been used at Stanford in the first human trials for the early detection of a therapeutic response in glioblastoma.