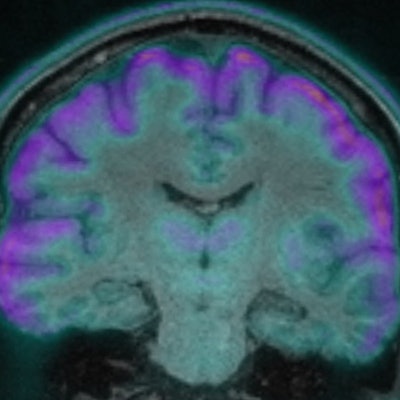 CHICAGO - Researchers believe they have overcome the challenge of attenuation correction in PET/MRI to ensure diagnostic image quality in brain scans of patients with medically refractory epilepsy, according to a study presented on Tuesday at the RSNA 2017 annual meeting.
The key ingredient is the Resolute MR attenuation correction method, which collects data on different tissue types from an MRI scan through segmentation and assigns equivalent CT linear attenuation coefficients to generate a map. The process was developed at St. Joseph's Health Care and the Lawson Health Research Institute in London, Ontario, Canada, and Rigshospitalet at the University of Copenhagen in Denmark.
"This work suggests that PET/MRI has the potential to improve the clinical management of medically refractory epilepsy, since the sensitivity of detecting lesions in [these] patients is significantly increased when PET is combined with MRI," said lead author Dr. Benjamin Kwan, chief neuroradiology fellow at the University of Toronto.
The early days
St. Joseph's and Lawson was the first site in Canada to install a PET/MRI scanner. The current study was conducted while Kwan was a diagnostic radiology resident there. One challenge with PET/MRI is attenuation correction to ensure quality images. Inaccurate estimation of attenuation correction can lead to incorrect readings for glucose metabolism and exaggerated temporal hypometabolism.
In those early days, PET/MRI software was often developed in-house, which led to additional research, Kwan said. Clinicians also had the unique ability to directly compare PET images acquired from PET/CT and PET/MRI because the two hybrid scanners were across the hallway from each other.
Another stroke of good fortune was the receipt of a Physician Services (PSI) Foundation research grant to explore PET/MRI's efficacy in epilepsy. The funding allowed researchers to investigate MR attenuation correction for diagnostic image quality and determine that the attenuation correction itself was not adversely affected by the hybrid modality.
Thus Kwan and colleagues were able to test their novel MR attenuation correction approach with the current clinical standard of CT-based attenuation correction in patients with medically refractory epilepsy.
The Resolute route
The researchers simultaneously acquired PET/MRI scans (Biograph mMR, Siemens Healthineers) from 15 patients with medically refractory epilepsy immediately after a clinical PET/CT scan. Patients received approximately 185 MBq of FDG prior to 30 minutes of image acquisition for PET/MRI and PET/CT 40 minutes after injection. PET/MRI data were corrected for attenuation using CT and the Resolute MR attenuation correction method.
PET images were reviewed and rated visually for metabolic activity in the frontal, temporal, parietal, and occipital lobes and cerebellum. The patients' PET scans were compared with results from healthy control subjects. The researchers also calculated the mean relative difference between the two PET images for the whole brain and for selected regions.
The researchers discovered a strong correlation between PET attenuation correction methods across brain regions (p < 0.0001), particularly in the mesial temporal lobe (p < 0.0001), which is associated with medically refractory epilepsy. Visual assessments between PET/MRI and clinical PET/CT matched in all but three patients. In that trio, PET/MRI revealed mild abnormalities not reported on PET/CT.
The similar PET performance between the attenuation correction methods highlighted the feasibility of PET/MRI in epilepsy, according to the researchers. Further clinical evaluation using multiple raters is ongoing, along with the evaluation of PET/MRI diagnostic accuracy compared to reference standards that include histology and seizure-free outcomes.
"Our work demonstrates that the technical challenges associated with PET/MR attenuation correction have been overcome and that PET/MR for clinical usage in epilepsy presurgical evaluation is ready to be implemented," Kwan said. "Further work, however, is required to assess the long-term outcomes for PET/MRI usage for presurgical evaluation in the epilepsy patient population."
Given the findings, neurologists and neurosurgeons at St. Joseph's and Lawson are showing increased interest in utilizing PET/MRI for epilepsy patients. As the researchers analyze detection rates using PET/MRI, the goal is to adjust clinical guidelines to improve patient outcomes.
"We will continue this research, with the next step to analyze the clinical impact of PET/MRI in epilepsy," Kwan said. "From a technical point of view, we believe that PET/MRI in epilepsy is ready for prime-time usage."