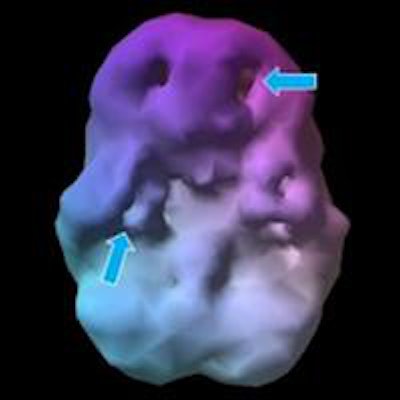 SPECT imaging shows abnormally low blood flow in the brains of current and retired National Football League (NFL) players, according to a new study to be published in the Journal of Alzheimer's Disease.
Researchers from the University of California, Los Angeles (UCLA) Medical Center and other Southern California centers examined blood flow in every region of the brain in more than 150 players. Using a machine-learning technique, they found regions of hypoperfusion with nearly perfect accuracy.
While structural imaging studies of the same patients often appear normal, functional neuroimaging can both pinpoint areas of hypoperfusion and demonstrate improvement following successful brain rehabilitation treatments, said lead author Dr. Daniel Amen, from Amen Clinics in Costa Mesa, CA, in a statement.
Recent findings of chronic traumatic encephalopathy in autopsies of former NFL players have raised serious concerns among players, healthcare providers, and the general public about the dangers of repetitive head trauma. The current study shows the potential for better diagnosis and treatment of individuals with football-related head trauma using well-established imaging modalities.
The study used cerebral perfusion imaging with SPECT to examine 161 current and retired football players (mean age, 52 years). Combining the SPECT results with a machine-learning technique to analyze the data allowed the researchers to differentiate NFL players with abnormal brain patterns from normal controls with 92% to 94% accuracy.
The NFL players, on average, had lower blood flow in 36 brain regions, particularly in the following six regions: anterior superior temporal lobes, rolandic operculum, insula, superior temporal poles, precuneus, and cerebellar vermis.
These regions function in memory, mood, and learning, and damage to them can produce cognitive and psychiatric problems: 83% of players in the current study had memory problems and 29% had a history of depression, the group reported.
Study author Dr. Cyrus Raji, PhD, from UCLA Medical Center said the convergence of functional neuroimaging, computer-based predictive analytics, and a research question of high national interest makes this study critically important for the neurological safety of football players as well as the public.