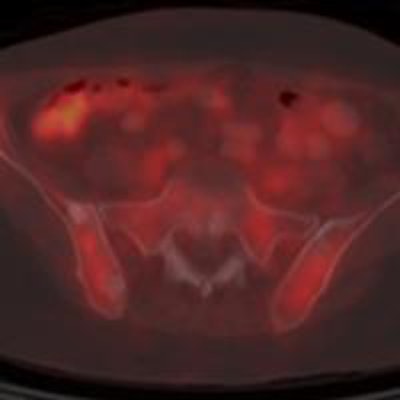 CHICAGO - FDG-PET/CT's aptitude for finding distant metastases in patients with stage III invasive ductal carcinoma has prompted researchers to suggest that the National Comprehensive Cancer Network (NCCN) add histology to its guidelines for determining the best method of staging.
According to the study presented on Sunday at RSNA 2015, FDG-PET/CT discovered significantly more unsuspected distant metastases in patients with newly diagnosed stage III invasive ductal cancer than in those with stage III invasive lobular cancer.
The researchers from Memorial Sloan Kettering Cancer Center and Weill Cornell Medical College also found that FDG-PET/CT upstaged more than 20% of patients with invasive ductal cancer to stage IV, resulting in a change in their treatment regimen.
The findings indicate that it is "valuable to know whether the patient has ductal breast cancer, lobular breast cancer, or another type of histology for breast cancer," said study co-author Dr. Gary Ulaner, an assistant attending radiologist at Memorial Sloan Kettering Cancer Center. "But no one has previously looked at how FDG-PET performs when one stratifies for the histology of the tumor."
Ductal vs. lobular
Ductal is the most common type of breast cancer, accounting for as much as 80% of all breast cancers, Ulaner told AuntMinnie.com. Lobular is the second most common form of the disease, but it much less frequent at only 10% to 15% of all breast cancers.
Currently, NCCN considers FDG-PET/CT to be the primary modality for diagnosing and staging suspected stage III breast cancer, but there are some issues with the optimal utilization of FDG-PET/CT for staging, due in part to histology.
"Classically, invasive lobular breast carcinoma has lower conspicuity on FDG-PET," said lead author Dr. Molly Hogan, a radiology resident at Weill Cornell Medical College, who presented the results at RSNA 2015. "Invasive lobular breast carcinoma also has differences in its pattern of metastatic disease spread compared with invasive ductal carcinoma," making it more difficult to detect.
Their retrospective study included 146 patients with invasive lobular cancer and 89 patients with invasive ductal cancer who received FDG-PET/CT between 2006 and 2013 before undergoing systemic or radiation therapy. Initial staging was done through a physical exam, mammography, ultrasound, MRI, and/or surgery.
Among the 146 women with invasive lobular cancer, FDG-PET/CT found unsuspected distant metastases in 12 patients (8%). Of these subjects, no stage I patients had their conditions upgraded, but two (4%) of 50 stage II cases were upgraded.
In addition, 10 (11%) of 88 stage III women were upgraded to stage IV; all patients upstaged to IV were confirmed by pathology. Three of the 12 upstaged patients were upstaged based solely on CT images, as their metastases were non-FDG-avid and not detected by PET.
Meanwhile, among women with stage III invasive ductal cancer, 20 (22%) of 89 were upstaged to stage IV from FDG-PET/CT results. All 20 subjects had FDG-avid metastases.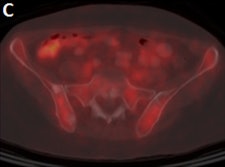 The relative risk of FDG-PET/CT revealing unsuspected distant metastases in stage III invasive ductal cancer patients was 1.98 times that of stage III invasive lobular cancer patients (p = 0.049). The relative risk increased to 2.82 in cases of FDG-avid metastases (p = 0.007), according to the researchers.
Histology matters
"For histology, patients with stage III invasive ductal breast cancers benefited from having FDG-PET/CT because 20% to 25% of them were upstaged to stage IV, which changes their treatment plan," Ulaner said.
Ulaner cited two reasons for the difference in FDG performance between ductal and lobular cancers. One factor is that FDG is more avid in ductal cancers than lobular ones. The second reason is based on where metastases tend to spread.
"With ductal breast cancer, distant metastases will be in the bone, liver, and lung, which are more easily seen on FDG-PET," he said. "Lobular breast cancer will more often give metastases to the gastrointestinal tract and the peritoneum, which are more difficult to analyze on FDG-PET and may be better evaluated by CT."
Given that FDG-PET/CT may be less useful for invasive lobular cancer patients, these women "should not be pooled with invasive ductal cancer patients when exploring the utility of FDG-PET/CT," the researchers wrote.
Based on the results, the researchers suggested that NCCN guidelines and future research may need to consider the histologic subtype of breast cancer, since FDG-PET/CT may have less of an effect on systemic staging of newly diagnosed invasive lobular cancer than invasive ductal cancer.
Hogan added that the group plans to continue with prospective data collection to advance the research to other newly diagnosed breast cancers.
The retrospective nature of the study, which could introduce bias, is one possible limitation, the authors noted.