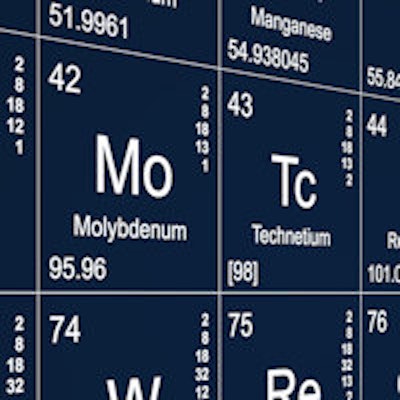 Concern over the future supply of medical isotopes in the wake of recent worldwide shortages and aging nuclear reactors has spawned a kind of cottage industry among entrepreneurs. One such firm is Perma-Fix Medical, which is developing a method for producing technetium-99m (Tc-99m) that does not require uranium.
The company's neutron-capture production process is designed to activate natural molybdenum (Mo) to produce Mo-99, which then decays into Tc-99m. By removing uranium from the production chain, the new process can be performed locally using standard research and commercial nuclear reactors, rather than one of the five research reactors in the world currently capable of processing enriched uranium.
At the heart of the technology is the company's specialized resin, which is radiation resistant, holds large quantities of molybdenum, and releases almost 90% of the Tc-99m as it forms from the decayed Mo-99.
"It is a simple solution to a complex issue," said Stephen Belcher, Perma-Fix Medical's CEO. "It is taking a normal generator, replacing the aluminum core with this resin core, and then applying the radioactivity to this core. We can radiate it, have activated molybdenum, and apply it to our resin core."
Clean technology
Perma-Fix Medical, a subsidiary of Perma-Fix Environmental Services, is quick to tout its environmentally friendly process, as other isotope producers transition from the use of highly enriched uranium (HEU) to low-enriched uranium (LEU). Both HEU and LEU leave behind a fair amount of radioactive waste.
"We are a cleaner system," Belcher said. "Even the LEU process with its waste will demand more and more cost to convert the fuel and the targets at these reactors, which is expensive and laborious."
There also is the concern of rising Tc-99m prices as nuclear reactors transition to LEU, because it simply costs more to manufacture medical isotopes using LEU than highly enriched uranium. If prices continue to rise, there is the fear that clinicians will opt for other modalities, such as CT and MRI, for their imaging needs.
"The market cannot stand much more of an upward trend in pricing, at least in the United States, and continue to be healthy," Belcher said. "We would like to use our product to fix the pricing. It is not going to change every year. We believe we can bring some stabilization of pricing to the marketplace."
Minimal investment
Perma-Fix's generator technology was developed primarily in-house, with its validation affirmed by the University of Missouri Research Reactor (MURR). One advantage of the technology is that the generator shell can be purchased from any one of a number of suppliers. Perma-Fix's radiated core will function the same way to produce Tc-99m.
Perma-Fix developed the technology on a relatively tight budget, investing $1 million, according to Belcher, who recently retired from his position as vice president of Triad Isotopes, which he founded in 2007.
"We can radically change the way technetium is produced for the market, but not change the way the market functions and utilizes it," said John Climaco, Perma-Fix's executive vice president.
Climaco came to Perma-Fix Medical after having founded Axial Biotech, a molecular diagnostics company that developed a DNA-based test for idiopathic scoliosis. He is also a director at nuclear medicine firm Digirad, which invested $1 million in Perma-Fix in July. The transaction gives Digirad approximately 5.4% of the outstanding Perma-Fix common shares. Matt Molchan, president and CEO of Digirad, also joined Perma-Fix Medical's supervisory board.
If and when Perma-Fix's technology is approved and available, Digirad has agreed to purchase Tc-99m at a preferred rate for its nuclear imaging operations, either directly or in conjunction with its nuclear radiopharmacy supplier.
"It is a nice infusion of cash, which validates PermaFix's technology," Climaco said, adding that the purchase of Tc-99m is Digirad's "biggest single cost after labor."
So far, so good
How is development of the technology going? In late August, Perma-Fix Medical successfully completed a scale-up of its process to produce Tc-99m from molybdenum.
The company confirmed that its proprietary resin could withstand levels of radiation up to 6 curies and provide clinically useful doses of Tc-99m. The two tests included one run using natural molybdenum and a second run using enriched molybdenum-98.
Perma-Fix has yet to decide how much further it will expand its capabilities, though Belcher speculated that it will work to perfect a 6- to 8-curie generator, as it heads toward regulatory submission.
"We have proven that we can do 6 curies on natural molybdenum," he added. "We can create larger generators, but we are trying to keep the core the same size for quicker approval" by the U.S. Food and Drug Administration (FDA).
Perma-Fix has two FDA consultants to compile the paperwork for FDA submission, and it's targeting the first quarter of 2016 for filing.
Over the next year or so, Perma-Fix plans to explore several parallel paths to advance the design and development of its product. This may include partnering with another firm for manufacturing of the generator, or keeping the design and production in-house, which would require more funding.
"We have several options on the table and several partners who are interested in possibly supplying us with their generator design or producing the generator for a royalty," Belcher said.