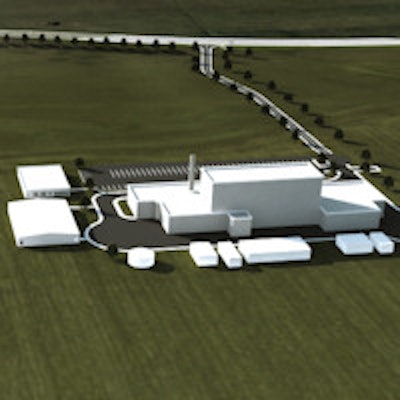 Since the severe global molybdenum-99 (Mo-99) shortage of 2009 and 2010, nuclear medicine practitioners have been glancing back over their collective shoulders to see when the next crisis might occur. Fortunately, plans are in the works to eliminate the angst of another medical isotope shortage, with one such effort coming from Shine Medical Technologies.
Monona, WI-based Shine is looking to build a Mo-99 production plant near Janesville, WI. The goal is to replace the aging nuclear reactors around the world, which have strained Mo-99 supplies at times over the past five years due to periodic shutdowns for planned maintenance or unexpected problems.
But Shine and its CEO and co-founder, Gregory Piefer, PhD, have found that the path to completing a facility can be difficult to navigate.
Shine came to be about four years ago as an offshoot of Phoenix Nuclear Labs, also in Monona. Piefer co-founded Phoenix in 2005 to produce high-output neutron devices, which could be used to manufacture molybdenum-99.
Back then, he recalled, there was a sufficient global supply of Mo-99 and Canada still had plans to build its two Maple nuclear reactors, which would replace Atomic Energy of Canada's (AECL) aging National Research Universal (NRU) nuclear reactor.
"Each one of those [Maple] reactors would have had global demand [for Mo-99] covered," Piefer said. "So we did not pursue it, even though we thought we had a cost advantageous and more environmentally friendly technology. It would've been hard to compete with that infrastructure."
In 2008, however, Canada decided to terminate the Maple reactor projects, thus abruptly changing the nuclear medicine industry and Phoenix's fortunes.
Piefer thought it would be a "daunting challenge" for Phoenix to raise enough capital to compete against the more established sources, but successful solicitation of support from the U.S. Department of Energy helped validate its technology for producing Mo-99.
By 2009 and 2010, the global shortage of Mo-99 had wreaked havoc on nuclear medicine, and Piefer and Phoenix became even more committed to bringing the technology and Mo-99 to market.
No reactor required
There's no need for a nuclear reactor with the Phoenix technology, which was developed in partnership with the Morgridge Institute for Research and the University of Wisconsin.
The technology uses a particle accelerator-based neutron source, which emits neutrons in all directions. The neutrons are then surrounded by lightweight low-enriched uranium (LEU) liquid targets. The liquid targets have a number of advantages, including easy separation of the medical isotope. The process itself is also designed to use less electricity and generate less waste.
"Our process has been designed for LEU from day 1, so we can actually adjust the target geometry and its dimensions to make sure there is no loss in efficiency from going to LEU," Piefer explained. "We would actually do no better with highly enriched uranium [HEU] than with LEU. In fact, we prefer LEU because security requirements would be higher for HEU."
Shine also plans to use this process in its new facility to make the medical isotopes iodine-131 and xenon-133, which are byproducts of Mo-99 production.
"We know these [isotopes] are useful and both have market value, but more importantly they have patient value," Piefer told attendees at the American Society of Nuclear Cardiology (ASNC) annual meeting in September.
Shine has already signed Mo-99 supply agreements with GE Healthcare and Lantheus Medical Imaging.
"It is our full expectation that the Lantheus and GE generators that are in use in the U.S. will all be able to use this Mo-99 as if nothing has changed in the supply chain," he said at the ASNC meeting. "That has been a very important focus for our effort going forward."
Financial resources
Unfortunately for Shine and the nuclear medicine industry, the company is running about a year behind in its initial timeline to have the facility up and running, "purely due to financing," Piefer said.
In September, the company secured $2.4 million in financing, which has since increased to approximately $4 million. Piefer said the money should be enough to get Shine through the licensing process of the U.S. Nuclear Regulatory Commission (NRC). The commission is currently conducting an environmental and safety assessment.
Last month, Shine inked an agreement for $125 million in debt and equity financing from Deerfield Management of New York City. The two parties are working to finalize the deal.
At this point, Shine hopes to have its construction permit approved by NRC in the second half of 2015. Subject to financing, the facility could be operational by the end of 2017.
That completion date is more than a year after the planned shutdown of AECL's NRU reactor in October 2016, which currently serves as a backup source of Mo-99 when other reactors around the world go offline.
The time between NRU's closure and Shine's opening will be "very challenging," Piefer said. "If the other reactors that are online are all steady, I think we will be OK without NRU. But if there are unexpected problems, we will have to do a lot of planning to manage during that year."
If and when Shine's facility is up and running, the eventual goal is to supply as much as one-third of global demand for Mo-99, Piefer said.
"We are targeting about 4,000 Ci within year 2 or 3 and moving toward 6,000 Ci over time," he said, adding that his colleagues have assured him "that we are not too ambitious in our ramp-up projection."
A little help here?
Another goal is for the operation to be financially self-sufficient with no government assistance, but right now, Shine would not mind the U.S. government offering support similar to what some foreign countries are giving their nuclear reactor projects.
The Dutch government, for example, is providing a $100 million loan for the Nuclear Research and Consultancy Group's High Flux Reactor (HFR) project in Petten, Piefer said.
The American Medical Isotopes Production Act, which was signed into law in January 2013, is supposed to allocate $163 million to support efforts to produce Mo-99 in the U.S. without using highly enriched uranium. It also stipulates that other medical isotopes, including iodine-131 and xenon-133, be produced as part of the Mo-99 process, all of which would apply to Shine.
The federal government is still working on how to implement that law, Piefer said. Shine is trying to get the law implemented in a way that expedites the company's time frame and will benefit patients.
"Given all that, we have put $40 million and four years of work into this [project]," he said at the ASNC meeting. "We have a great construction permit application and facility design, a great team, and a great technology that has checked off all of the major risk boxes at this point. But we still need the resources to get it done."