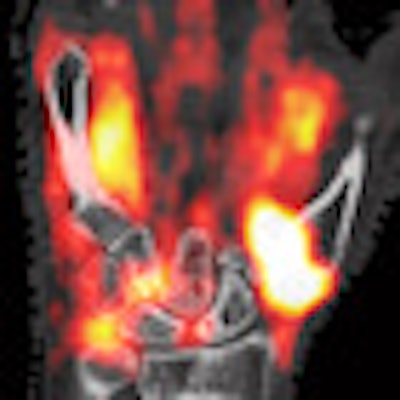 Researchers at the University of California, Davis (UCD) School of Medicine have developed a unique extremity PET/CT system that may become a promising tool for monitoring disease activity and studying the pathogenesis of inflammatory arthritis such as rheumatoid and psoriatic arthritis.
During his presentation last week at the Society of Nuclear Medicine and Molecular Imaging (SNMMI) meeting, lead study author Abhijit Chaudhari, PhD, assistant professor of radiology at UCD, said the technology may complement or be an alternative to MRI in this clinical application.
Inflammatory arthritis affects more than 2% of the world's population, with societal costs estimated at more than $40 billion. This type of arthritis can have from mild to devastating effects, starting with soft-tissue swelling, synovitis, and tenosynovitis, and leading to bone erosion, joint space narrowing, and, ultimately, bone destruction. The disease may result in long-term disability.
Currently available systems such as whole-body PET produce poor spatial resolution for small joints, such as those in the hand. "The hands are considered the bellwether of pathology and inflammatory arthritis, but quantification of disease activity in precisely these areas is compromised when using whole-body PET systems," Chaudhari said.
Because FDG accumulates at sites of inflammatory activity, Chaudhari and colleagues surmised that the radiotracer could be an excellent marker of disease status.
UCD's custom-built extremity PET/CT system is designed so that a patient lies atop the gantry with his or her hand and arm suspended downward through a hole in the tabletop. A 16-sec CT scan is conducted as the tube and detector rotate around the hand. The PET detector heads are then enabled and acquire data by step-and-shoot rotation over 180°. For the PET scan, the patient receives approximately 10 mCi of FDG.
A total of four men and four women (five with rheumatoid arthritis and three with psoriatic arthritis) with a median age of 57 years participated in the prospective study. The most symptomatic hand underwent extremity PET/CT imaging (spatial resolution: PET = 2.5 mm; CT = 0.25 mm).
In addition, three patients underwent an MRI scan immediately following PET/CT for focal lesion enhancement and correlative analyses.
Two radiologists evaluated the coregistered PET/CT images. One reader specialized in musculoskeletal diseases and the other had experience in general radiology and nuclear medicine.
The analysis found that classic symptoms associated with inflammatory arthritis, such as carpal and radiocarpal synovitis, tenosynovitis, and inflammation at sites of bone erosion, were clearly identified from PET on coregistered anatomy from CT. In addition, the researchers were able to quantify metabolic activity at the targeted tissue sites.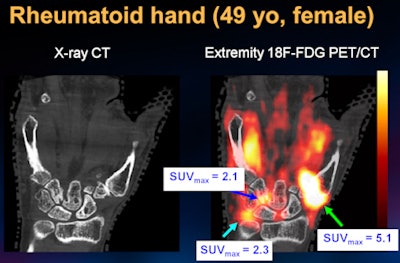 The images show the hand of a 49-year-old female patient with rheumatoid arthritis. Bone erosions are observed at the capitate and hamate bones. An overlay of PET (color image) on CT (grayscale image) shows areas of glucose uptake, which correspond to regions where inflammation is present. PET can quantify glucose uptake and provide a surrogate for disease severity.
Bone marrow edema on MRI showed increased PET activity, FDG uptake broadly correlated with contrast-enhanced MRI findings at sites of erosion and for synovitis, and erosive changes in bone were better detected from CT than from MRI, according to the researchers.
Based on the clinical pattern in the underlying CT images and the improved spatial resolution, Chaudhari and colleagues determined that inflammation at sites typically affected by inflammatory arthritis could be measured separately from sites affected by osteoarthritis.
"We can capitalize on this information and use PET/CT as a tool of early monitoring of response to new therapies," Chaudhari said. "There is plenty of evidence in the published literature that finding the right treatment early for patients can substantially reduce long-term disability and improve outcomes."
Study disclosures
The research was a collaborative effort between UCD and the Veterans Affairs Medical Center in Sacramento. It was funded by the Rusch Fund, several National Institutes of Health grants, the UCD Imaging Research Center, and the UCD Health System Vision Grant.