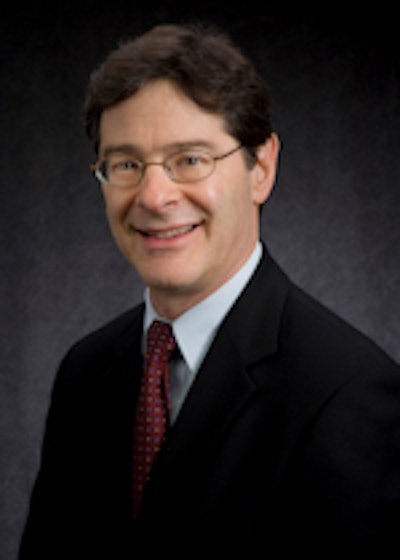 SAN ANTONIO - PET/MRI is one of the most exciting new technologies in nuclear medicine, but the new modality must justify its use through proven clinical benefits before widespread adoption will occur, according to Sunday's keynote address at the Society of Nuclear Medicine (SNM) annual meeting.
Dr. Bruce Rosen, PhD, professor of radiology at Harvard Medical School and director of the Martinos Center for Biomedical Imaging at Massachusetts General Hospital, said many clinical applications for PET/MRI are "foreseeable -- some are obvious and some, perhaps, not yet envisioned."
"Its widespread clinical adoption, especially in such difficult financial times, is hardly ensured," he added. "In the end, we will have to justify why we are using this technology based on the value it adds to our patients."
Rosen cited several clinical applications where he sees PET/MRI having an immediate positive effect, such as in reducing patients' exposure to radiation, especially among women and children. As an example, he mentioned women who are of child-bearing age, where it can be difficult to distinguish between an ovary and a lymph node in the pelvic area.
Lesion detection
CT may be able to detect an abnormality that looks like a lesion, but the object is hard to localize. MRI can show the difference between an ovary and metastatic disease in the pelvic region much more clearly because of its ability to visualize soft-tissue contrast.
In cases of cervical cancer, MRI can detail soft tissue of the bowel wall and localize disease outside of the wall, which would suggest inflammation rather than a metastatic lesion. "It is something that would be very hard to sort out with CT, but [is made] easier because of the soft-tissue contrast of MR," he added.
Rosen also described MR as the "definitive imaging tool" for the prostate. There will also be "significant benefits" for head and neck imaging because of MRI's "ability to characterize the detail and nature of the invasiveness of such lesions. MRI's coregistration with the underlying metabolic activities is the key to making an accurate diagnosis."
In breast imaging, he noted one case where MRI was able to localize lesion activity and indicate contrast enhancement on the contralateral side. With the addition of PET data, it was determined that the cancer was confined to one breast.
Clinical applications
In addition, Rosen sees increasing use of PET/MRI for treatment monitoring in oncology as well as a wide variety of diseases, such as epilepsy or cardiac disease, where physiology is key. "This makes the best use of the combined strengths of the technologies," he said.
In the near future, Rosen sees PET/MRI as particularly useful in the area of Alzheimer's disease and dementia. Presenting statistics of significant diseases around the world, Rosen noted that six of top 10 maladies that burden people over their lifetimes are related to the brain. The brain has a huge contribution to the overall disease burden, ranging from depression, which is No. 1, to Alzheimer's disease at No. 3.
In April, the U.S. National Institute on Aging and the Alzheimer's Association revised its diagnostic guidelines for Alzheimer's disease, determining that the malady occurs gradually over many years. The communiqué concluded that Alzheimer's can begin with changes in the brain, which develop into memory problems and eventually become dementia.
The significance of the guidelines is that healthcare practitioners will need to identify patients with Alzheimer's traits in the early stages of the disease.
For example, researchers have used PET and carbon-11-labeled Pittsburgh Compound B (C-11 PiB) to visualize a link between amyloid plaques and Alzheimer's in its early development. In some patients, those early indications coincide with the beginning of memory loss. With contrast agents, such as the PiB agent being developed, PET/MRI may provide a new way to observe the amyloid process.
"Whether it is FDG or PiB or MR morphology, there are a wide variety of tools we can use to try to get the diagnosis right, especially as we move to treatment of patients who don't have overt clinical signs [of Alzheimer's]," Rosen said. "These will be expensive treatments we can't afford to give to patients who won't develop the disease, and can't afford not to give to patients before their brain is destroyed by the ravages of the disease. We have to get the diagnosis right, and these combined tools should be the best way to do it."
In his summary, Rosen encouraged SNM attendees to undertake "careful studies" to quantify how PET/MRI will add value to patient care. "That's the only way we will be able to widely adopt such fabulous technology -- and one that doesn't come cheap," he said.
Taking into consideration all its benefits -- and even its potentially lofty financial commitment -- "MR and PET together are pretty cool," Rosen concluded.