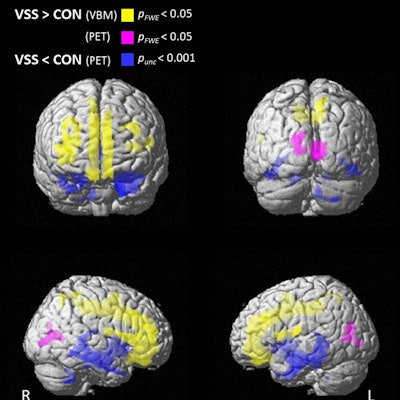 PET/MRI scans have revealed significant structural and metabolic brain abnormalities in patients with visual snow syndrome, according to a study published December 30 in EJNMMI Research.
Belgian researchers at KU Leuven investigated metabolic overactivity observed on F-18 FDG PET/MRI scans of specific brain areas thought to be associated with the neurologic condition. The approach allowed them to reliably identify individuals with the condition versus healthy controls, they reported.
The findings could "offer directions for potential therapeutic developments for this currently very challenging to manage disorder," wrote a team led by author Dr. Koen Van Laere of the university's Leuven Brain Institute.
Visual snow syndrome is a recently recognized chronic neurological condition characterized by the constant perception of tiny flickering dots throughout an individual's entire visual field. The condition is diagnosed based on clinical visual symptoms.
Several recent brain F-18 FDG-PET and MRI studies have detected changes in particular brain areas of patients with visual snow syndrome compared to healthy patients, but "it remains to be demonstrated if [some of] these pathophysiological alterations can be translated towards clinical utility," they wrote.
The investigators aimed to evaluate the use of PET/MRI for detecting suspected brain activity associated with visual snow syndrome in a group of seven participants. They compared F-18 FDG radiotracer brain uptake on brain PET/MRI scans in these patients compared to 15 age-matched healthy controls.
As a main finding, the researchers observed hypermetabolism in the lingual gyrus, a brain structure linked to processing vision, and more metabolic activity at rest in the right cerebellar lobules Crus 2-VIIB/VIII in visual snow syndrome patients, the authors reported.
"The intensity differences were robust enough so that discriminant analysis of the relative F-18 FDG uptake data was able to fully separate visual snow syndrome patients," the researchers wrote.
Ultimately, the metabolic findings in this study confirm the particular role of the lingual gyrus in visual snow syndrome, the authors noted. Further research may focus on distinguishing between different but related disorders of visual snow syndrome, such as migraine and tinnitus.
"More study power is needed with preferably a multimodal, multiparametric approach and with clinical profiling of visual, auditory, emotional, and cognitive functions," Van Laere and colleagues concluded.