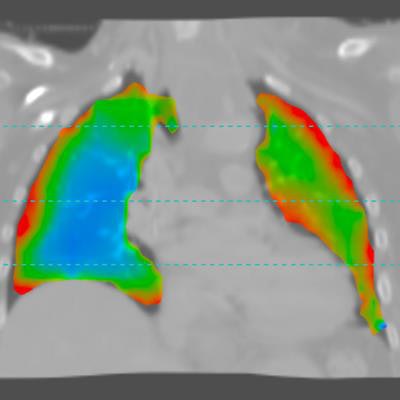 Medical image analysis software developer 4DMedical (formerly 4Dx) has received U.S. Food and Drug Administration (FDA) clearance for XV Technology, a software application that provides 4D analysis of functional lung impairment from a fluoroscopy exam.
Available as a software-as-a-service through a cloud subscription, XV Technology can be implemented using existing hospital and clinical infrastructure, according to the vendor. Imaging departments can send a fluoroscopy study electronically to 4DMedical. Next, the firm's software algorithms then automatically analyze the exam to identify and quantify any functional impairment. Ventilation reports are generated within three hours, according to the vendor.
Although the company said that XV Technology is not intended to replace molecular tests as a primary diagnostic method for COVID-19, 4DMedical believes that its ventilation reports can also provide quantitative support for diagnosis and follow-up examinations for patients who have, or who are recovering from, the virus.