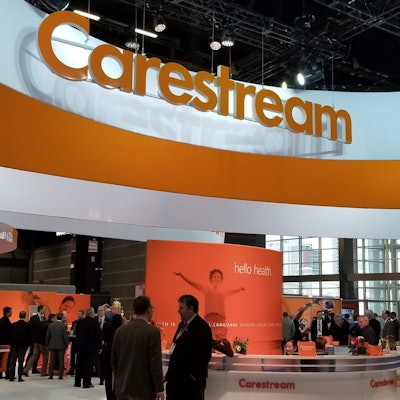 When the parent company of Philips Healthcare completes its acquisition of Carestream Health's healthcare IT unit, it will leave Carestream with a sharpened focus on its core business of medical image acquisition modalities, particularly digital x-ray. Carestream plans to double down on its investment in digital x-ray following the sale.
Philips and Carestream announced on March 7 that Philips is acquiring Carestream's Healthcare Information Systems (HCIS) division, which includes offerings in PACS, vendor-neutral archives, diagnostic and enterprise viewing software, and business analytics tools. The deal was perceived by market analysts as bringing together two of the top five players in the global radiology IT software by market share.
When the deal is completed, Carestream will be free to focus exclusively on its medical imaging hardware business, which includes digital radiography (DR), computed radiography (CR), and printing systems, according to Charlie Hicks, general manager for premium-tier solutions at Carestream.
Hicks pointed out that prior to becoming Carestream Health, the firm was part of Eastman Kodak, with roots that go back to the earliest days of x-ray film. Indeed, Kodak introduced photographic paper designed specifically for the capture of x-ray images in 1896 -- just one year after Wilhelm Conrad Röntgen's momentous discovery.
"Our heritage was founded in imaging," Hicks told AuntMinnie.com in an interview. "This [deal] really allows us to focus on our core imaging, x-ray business."
Proceeds from the HCIS divestiture can be plowed back into R&D and the development of new digital x-ray technologies, Hicks said. Areas of focus include the following:
Supporting the DRX-Revolution Nano mobile x-ray system, which was introduced in 2018 with nanotube technology that enabled the creation of a smaller and lighter system
Adding a new 25 x 30-inch DRX detector that supports low-dose image acquisition algorithms
Creating a center of excellence for the value-tier DR segment
Further developing the OnSight conebeam CT scanner for extremity applications
Providing a tomosynthesis application on the DRX-Evolution Plus x-ray room, to be released later in 2019
The company introduced an ultrasound scanner in 2014, but today that's mostly being sold in international markets.
While much of the R&D focus is on DR, Carestream still maintains a healthy business in CR, which is often purchased by smaller hospitals and imaging centers due to its low price and good image quality, despite longer image acquisition times, Hicks said. Still, the CR business will continue to give way to DR due to that technology's workflow advantages.
In the premium and midtier segments, Hicks sees artificial intelligence (AI) as having a major impact on digital x-ray. Many of the new AI algorithms coming out are targeted at digital radiography, probably because there are many large databases of x-ray images available on which to train algorithms. This will help make digital x-ray competitive with modalities perceived to be more "advanced," such as CT and MRI.
Carestream customers have been mostly positive about the Philips deal, Hicks said.
"The question is, what's your future? And I'm really excited about our future," he said. "I think we have a lot of technology coming out this year, a lot of stuff in the pipeline."