As part of a push to nudge U.S. healthcare providers to adopt digital radiography (DR), the Medicare system will begin reducing payments for exams performed on analog x-ray systems starting in 2017. The year after that, sites using computed radiography (CR) equipment will also see payment reductions.
Medicare payments will be reduced by 20% for providers submitting claims for analog x-ray studies starting in 2017 under a provision in the Consolidated Appropriations Act of 2016, which was enacted into law in December 2015. Starting in 2018, payments for imaging studies performed on CR equipment would be reduced by 7% for the next five years, and 10% after that.
While the law's provisions on analog x-ray are expected to have a minor impact due to the small number of traditional systems still in operation in the U.S., the reductions in CR payments could have a much broader effect: More than 8,000 CR units are still in service in the U.S. All of these systems must be replaced or imaging facilities will experience payment reductions.
Transforming the oldest modality
The adoption of DR over the past two decades has transformed medical imaging's oldest modality, enabling bread-and-butter x-ray images to be acquired quickly and then easily transferred into PACS for distribution, interpretation, and archiving. Before DR arrived, many facilities upgraded their x-ray equipment with CR, which replaced film-screen cassettes with imaging plates that can be carried to a reader for digital output.
The provisions inserted into the Consolidated Appropriations Act are designed to speed the transition of U.S. healthcare providers toward digital radiography by changing the Hospital Outpatient Prospective Payment System. Classified as a "special rule," it specifies a 20% cut starting in 2017 to the technical component of reimbursement for an x-ray taken using film.
The cuts for CR are phased in over time, starting in 2018. Payment for the technical component of an x-ray acquired using computed radiography will be reduced by 7% during the years 2018 to 2022 and by 10% after that. Complete text of the act can be viewed by clicking here.
Origins of the provision began about a year ago, when the American College of Radiology (ACR) began working with various manufacturers, in particular Varian Medical Systems, according to Cynthia Moran, ACR's executive vice president of government relations, economics, and health policy.
While Varian is best known for radiation therapy systems, it also manufactures DR panels for inclusion into new OEM x-ray systems and offers DR retrofits for installed analog and CR x-ray systems in the field.
The DR provision was originally inserted into the 21st Century Cures Act, legislation proposed in 2015 that among other things would have repealed the Multiple Procedure Payment Reduction (MPPR). The controversial MPPR rule was implemented by the U.S. Centers for Medicare and Medicaid Services (CMS) in 2012 and reduced reimbursement by 25% for imaging studies performed on the same body part on the same patient in the same imaging session.
The 21st Century Cures Act passed the House of Representatives on its own, but on arrival in the Senate many of its provisions were folded into the Consolidated Appropriations Act -- including the DR provision and a change in the MPPR from 25% to 5%, Moran said. The budget bill eventually passed with both provisions intact, she said, and was signed by President Obama.
ACR worked with vendors, including Varian and the Medical Imaging and Technology Alliance (MITA), on getting the DR provision inserted into the Consolidated Appropriations Act in exchange for their support in reducing the MPPR cut, Moran said.
"They supported us in us trying to get MPPR payment reduction passed, and so we partnered with them to go to Congress to see if they would do the two imaging provisions and handle them at one time," Moran said.
While it's tough getting any proposed legislation through Congress, Moran said the two provisions were attractive because they will save the federal government $350 million over the next 10 years. In the case of the DR provision, the savings will come from lower Medicare payments being made to hospitals operating analog and CR equipment.
Legislation's impact
How much will the legislation affect U.S. hospitals? Not much when it comes to analog x-ray, as the number of film-based systems operating in the U.S. has fallen to miniscule levels, according to market research firm IMV Medical Information Division.
In its 2013 x-ray market report, IMV projected that fixed analog general x-ray rooms made up just 1% of the installed base at U.S. hospitals, down from 5% in 2010. Indeed, the decline in the analog installed base was so great that in its 2015 report IMV didn't bother to ask radiology administrators how many analog units they were still operating, according to IMV Senior Director Lorna Young.
"So few people have film that it's not worth talking about," Young said. "I think film in the installed base has gone virtually to nothing."
CR offers a different story. While still considered digital, the technology lacks the workflow efficiency of DR, and sales have been declining over the years. While CR made up 55% of new digital x-ray sales in 2006, that number fell to just 6% in 2015, with the rest of digital x-ray sales made up by DR, according to IMV.
Still, years of strong CR installations mean that the technology still makes up a significant part of the installed base of digital x-ray systems, unlike analog x-ray, Young said. In IMV's 2015 report on the x-ray market, the firm estimated that there are 16,775 fixed general x-ray systems installed at hospitals in the U.S. (a figure that does not include mobile units or systems installed at outpatient locations). Of that total installed base, some 8,545 systems are CR.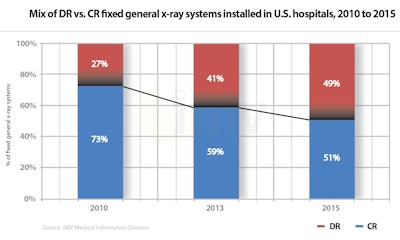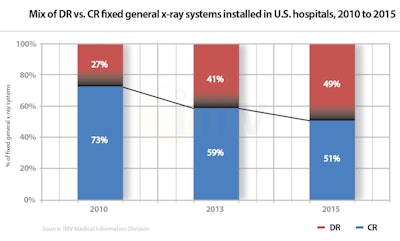 Imaging facilities will therefore have to decide whether to spend the money to upgrade their CR equipment to DR, or swallow a 7% to 10% reduction in payments for x-ray studies. Many of these facilities are located in rural areas, with less access to the capital needed to buy new equipment.
In its 2015 x-ray market report, IMV said that 62% of hospitals were already planning to buy either a new x-ray system or a DR retrofit kit in the coming years. Of these, 70% of sites with fixed CR systems are planning purchases, Young said, while only 34% of sites with fixed DR are making purchasing plans -- perhaps indicating their satisfaction with the newer technology.
Converting to DR will produce workflow and efficiency gains -- as well as lower radiation dose -- for the U.S. hospitals that finally make the switch to fully digital operation, according to ACR's Moran.
"Clearly analog is felt to be antiquated and not helpful. CR is clearly less antiquated, much more in use, and has many advocates for it, but even that market is moving fairly quickly to digital," she said. "This policy just furthers that along."
For Varian's part, the company sees its support for the legislation as adding impetus to a positive trend in healthcare, according to Spencer Sias, vice president of communications and investor relations at the company.
"We believe that digital imaging makes it possible to lower the cost per procedure by allowing for higher throughput in imaging centers," Sias told AuntMinnie.com. "We eliminate the need to buy, process, develop, and store film. That is a very good thing in an age when the cost of medicine needs to be held in check."
Disclosure notice: AuntMinnie.com is a subsidiary of IMV Ltd.